From the largest city in Sweden to the little city of Gainesville, Sara Dahlstrom has brought her elite talent and leadership to the Florida Gators women's tennis team.
The 22-year-old grew up in Stockholm, Sweden, and became one of the top-rated juniors in her country before even turning 20.  
She has been in the world of tennis since she was a little girl, so the game has become second nature to her. 
"It was already in my family, because of my dad," Dahlstrom said. "So, when I was like five years old me and my sister started playing tennis with him."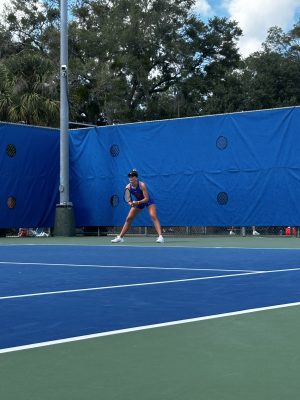 Far From Home
Dahlstrom decided it was time for a significant change from home when choosing which college to attend.  
Ironically, the University of Florida has the city of Miami to thank. Miami left such a great first impression on Dahlstrom. 
"I was very interested in going to the University of Florida because when I was 12 I played a big tournament in Miami, and I thought the whole of Florida was the same as Miami. You know, palm trees and sunshine!" 
Moreover, the women's tennis head coach, Roland Thornqvist, is also a native of Stockholm. So the familiarity created another connection for Dahlstrom to hold onto while she made her decision to come to UF.
Moving Within a Global Pandemic
Although the Swedish connection with her coach was nice, a pandemic was happening when Dahlstrom moved to the United States. 
"I kind of had a hard time actually," Dahlstrom said, "I was having periods when I was really sad and didn't see if I was going to get through it." 
To combat that, Dahlstrom began to find a new way of thinking to motivate her in a positive light.
She focused on the idea that COVID was (hopefully) going to be just one part of her college experience, and she started looking forward to the opportunities that would present themselves: finally becoming friends with her teammates and meeting other student-athletes beyond tennis.
Her wishes became true, as the community started to open back up so that her life as a student-athlete could become more of a positive experience. One great example of this is the tradition Dahlstrom has with her teammates. At least once a week, they attend Piesanos Stone Fired Pizza to keep creating memories even off the court.
Now a Student Athlete
Now experiencing her senior year at the University of Florida, Sara has big plans for when she graduates. She wants to continue playing tennis professionally after her collegiate career is over.
She started her academic journey in Gainesville as a sports management major and soon switched to journalism, with a specialization in the sports and media track. However, she quickly realized her true passions lay elsewhere. She found the public relations major would give her more opportunities post-graduation if needed.
"Public Relations has different opportunities that felt more in my interests. So I just decided to go that route, and then I really like the classes I have now." Dahlstrom said. "They fit my personality and what I want to do, and I can use that major for a lot of stuff." 
Sara Dahlstrom has always taken school seriously, and she has proven it in her first two years as a University of Florida student-athlete. She was a First-Year SEC Academic Honor Roll selection for the 2020-2021 season and a First-Team All-SEC honoree for the 2022-2023 season. 
"I feel like I've been used to that since I was younger. Growing up, I played a lot of tennis, and then the first thing I did when I ended school for the day was to go to practice. So, I had that in my nature from a younger age."
Full-Court Effort
Dahlstrom has been committed to the Orange & Blue since she first stepped on campus. She has provided the team with some impressive play and leadership throughout the years.
During her freshman year, she managed a Florida match-clinching win over the Arkansas Razorbacks. This led to her being named Freshman of the Week for that performance. Additionally, competing at the number 4 and 5 singles positions, she appeared in the ITA singles rankings twice. The ITA rankings algorithm is all based on win and loss points, win-loss records, significance of the wins and losses and strength of schedules. Additionally, she received an SEC All-Freshman team recognition.
The 2022-2023 season held even bigger successes. Sara Dahlstrom led the Gators with 10 ranked victories in singles, earned an at-large bid to the NCAA Singles Championship and peaked at No. 17 in the ITA's Singles Rankings.
It's too good…

Spee/Dahlstrom are currently defeating Old Dominion's Johnson/Viktorovich 4-0 #GoGators 🐊🎾 pic.twitter.com/4LWwvOUdQB

— Gators Women's Tennis (@GatorsWTN) October 3, 2023
With all those to look back on, there is one memory that specifically stands out.
"Last season we played Michigan at home, and we beat them," she said. "We were kind of coming in as an underdog and playing the #3 seed, and you are maybe not expected to win even though we were very eager to play and to win. And we did!" 
Now in her senior year, she has an opportunity to help the next generation of international student-athletes, those who may seem afraid to move so far from home or dive into something completely new.
"I would probably say give it a try. You can always go back home if you feel like its not something for you. Also, give it time. For me, it took more than a year, which was tough in the beginning. But, then, as soon as time goes and time passes by, you're going to learn and see there is a big difference. Because for most people, especially international, the first year is tough. So I would just say give it a try, and don't be afraid if there is something uncomfortable!" 
You Have a Friend in Me
Freshman Malwina Rovinska, who came to Florida in August from Warsaw, Poland, has already felt the impact of Sara Dahlstrom's leadership. 
"I love Sara as an athlete," Rovinska said.  "So, just when I look at her, the way she behaves every day, it's so good. When I look at her, I admire her."  
Sara Dahlstrom took the risks of leaving far from home during a pandemic and has faced adversities and unknowns head-on. Now, she continues to pave the way for international students across the world.