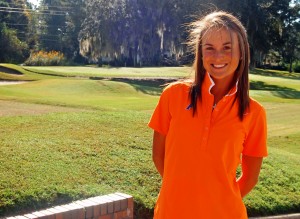 Every member of the Florida women's golf team hails from a different corner of the globe.
The team's lone member from the United States, Katie Mitchell, joked this year she'll become fluent in six languages after hearing them regularly between team members.
But clashing cultures haven't stopped the team's cohesion. In a sport that Mitchell admitted is very individual and mental, she said this year's squad has become like sisters after travelling all year together for the first time.
"(It's great) to know that we have each other's back and to know that the person behind me has got my back if I struggle," Mitchell said. "Their encouragement, like when we do the Chomp in the fairways, just makes it feel more like a team, and that really is encouraging."
Sarah Schober, from Leibnitz, Austria, said competitive golf in Europe is an extremely individual activity and team events rarely occur. Although that format is great for working on her own game, she likes the American team style for the unity.
"On the course when we see each other, we're cheering for each other," Schober said. "It's really good to see everybody doing well; it's going to affect everybody because we're like a team, and it's a team sport actually here."
The Gators began the season in September at No. 10 going into the Cougar Classic at the College of Charleston, a tournament which Schober and Mitchell agreed was one of the best parts of the fall season. The team won the tournament title for a second year in a row, and finished as a team five-under par (859).
Going into the team's second tournament, at Chicago's Windy City Collegiate Classic in late September, the Gators's ranking had  moved up to No. 5. That tournament resulted in a ninth-place finish. At the Tar Heel Invite at UNC-Chapel Hill in early October, the team  finished eighth. Those two outings were the team's low points – and according to Schober, unexpected.
Mitchell agreed. Going into the team's final appearance of the fall season at the Alamo Invitational in San Antonio, Texas, in late October, the team was looking for a little redemption from the previous two tournaments.
"We just really learned a lot the two middle tournaments, about each other, about our coaches, about college golf," Mitchell said. "Even though we struggled a bit, it really helped us do better because what doesn't kill us makes us stronger."
With that in mind, the Gators captured fourth place at the Alamo with three players, including Mitchell and Schober, recording career-bests. Schober shot 209 (-7) and Mitchell shot 215, one under par. Before the last round teed off, the team met on the course to realign their focus. The consensus message was to leave it all on the fairways during the last round of the fall season.
"To know that we can do that when we say we need to do it brings a lot of confidence for us going into the spring," said Mitchell.  "I believe in them and we all believe in each other, and we all know that we can do that – set career bests – at every tournament. "
The fall season acts as more of a preseason to the spring. In the spring are conference tournaments and a shot at the national title, so the Gators will take momentum with them into the offseason.
"I think we finished pretty good. Everyone is excited to go into the spring and we're working very hard on and off the golf course," Schober said. "I think everybody saw what we need to work on. I think if everybody keeps doing what we're doing and improves some parts of our games, then I think we're going to do really well in spring."
According to Mitchell, being ranked No. 14 in the country heading into the offseason is great, but it doesn't "show who we are."
Having a chance to recover and recuperate ahead of a competitive spring might just be what the team needs to focus on until its next outing, Jan. 27 at USF.