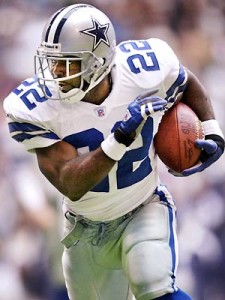 Smith chose to forgo his senior year of college at the University of Florida and entered the 1990 NFL draft. After having a very successful college career with Florida, in which he broke 58 school records, Smith was projected to be a 1st round draft pick. Similar to what he faced out of high school, some NFL scouts stated Smith was "too small, too slow" to continue his success at the next level. Once again, Smith refused to pay attention to their comments and focused on playing the game as he had his whole life, at the highest level.
"Many folks would say various things about me and I can't control what they say," Smith said. "The only things I can control are my attitude, approach to the game, my performance on the football field and, at the end of the day when it's all said and done, how I stacked up against some of the best players to ever play the game."
Smith was drafted with the 17th overall pick in the 1990 NFL Draft by his childhood favorite team, the Dallas Cowboys. In 1990, Smith was asked to be the starting running back as a rookie and promptly ran for just shy of 1,000 yards and 11 touchdowns on his way to being awarded NFL Rookie of the Year. The 1991 season began a streak for Smith that still hasn't been broken to this day.
From 1991-2002, Smith became the first and only NFL running back to rush for 1,000 yards in 11 consecutive seasons with his best statistical season coming in 1995 when Smith ran for 1,773 yards and 25 touchdowns while leading the Cowboys to their third Super Bowl in four years. Smith also won the NFL MVP award for the 1993 season as the Cowboys repeated as Super Bowl champions.
As the seasons rolled on and Smith consistently racked up over 1,000 yards, Walter Payton's NFL rushing record of 16,726 yards in a career seemed to be in jeopardy. On the morning of October 27, 2002, Smith found himself only 93 yards shy of the record with the Seattle Seahawks coming to Dallas. Smith was well aware of how close he was to the record and was more determined than ever to have a great game in front of his home crowd that day.
"I knew what was at stake that day and I knew that we had to get it done in Texas Stadium because the next week we were on the road," he said. "I intended for that day to be one of the most special moments of my career."
Smith came in to the game having not rushed for 100 yards in a single game during the season but when the clock hit zero, Smith was the NFL's all-time leading rusher as he finished the day with 109 yards on the ground.
The 2002 season came to a close with the Cowboys missing out on the playoffs and Smith's record of 11 consecutive 1,000 yard season coming to an end, and Smith and the Cowboys parted ways. Smith went on to sign a two-year deal with the Arizona Cardinals which was a time in his career, he stated, that most people "tend to forget about." After fulfilling his contractual obligations with the Cardinals, Smith decided to hang up his cleats for good at the end of the 2004 season and signed a one-day contract with the Dallas Cowboys and promptly retired. Every player experiences that moment when they know it's time to leave the game and Smith knew it was his time to move on when he returned to Dallas as a Cardinal.
"I knew I was done when I came back and played the Dallas Cowboys with the Arizona Cardinals and I was getting dressed in the visitor's locker room," he said. "I was looking around and I felt out of place. I felt like I was supposed to be over in the home locker room getting dressed like I had for 13 years and it absolutely broke my heart to sit in that visitor's locker room and to think that I wasn't with the team that I always loved."
To retire as a Dallas Cowboy, said Smith, was "always the plan from the very beginning." Smith finished his career with 18,355 rushing yards and 175 total touchdowns, second only to Jerry Rice with 208. While he knew he would miss playing and competing in the game he had been so successful in since his early childhood, Smith was ready to spend more time with his family and begin his own business.
Be watching for the final part of the series next week, as the focus shifts from Smith's football career to his after-football life and what he's doing today.