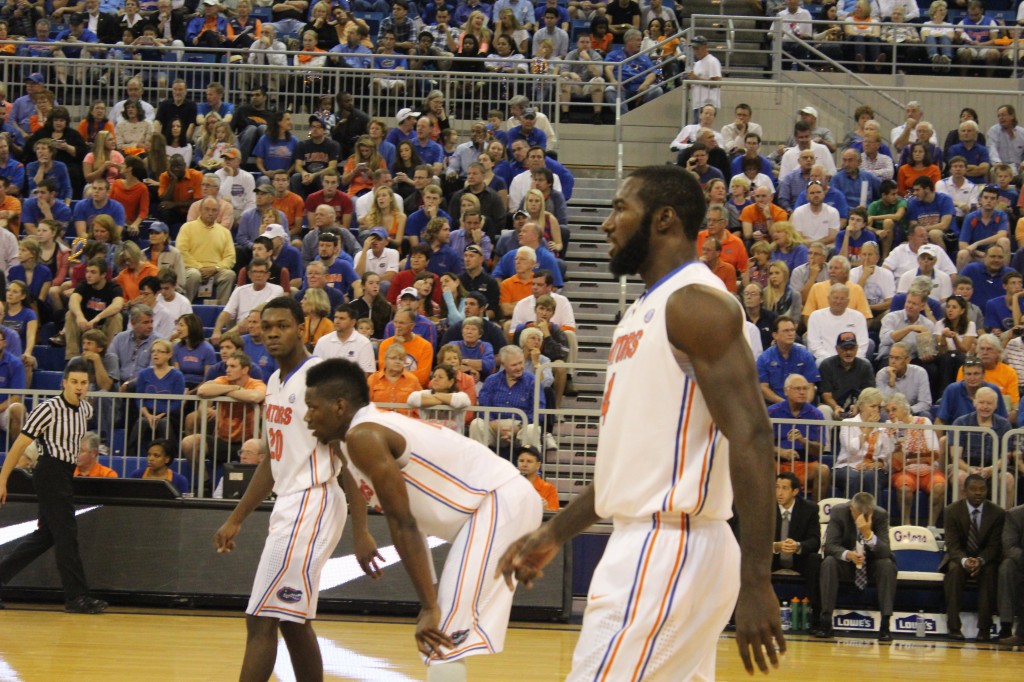 From left to right: Florida G Michael Frazier, F Will Yeguete and C Patric Young
The Florida Gators (6-1) are certainly not making their injury-plagued season easy on themselves as they follow up their one-point victory over FSU with a road trip to undefeated Connecticut (7-0) tonight at 7:00 pm.
The teams' only previous meeting was a 69-60 overtime victory for UF in the Sweet 16 round of the 1994 NCAA Tournament, which the Gators advanced to their first Final Four.
In Florida's last game, the Gators narrowly escaped a half-court shot by FSU's Ian Miller last Friday night to get out of the O-Dome with a 67-66 win.
UF was once again without guards Kasey Hill, DeVon Walker, Dillon Graham, and Eli Cater only saw two minutes of play as he battles back from injury. With so much turnover in the backcourt, Florida head coach Billy Donovan said the guards that do play will need to step up, because that just so happens to be U Conn's strength.
"I think they have three guards that (when you) put the ball in those guy's hands, those guys can really make plays; they can put a lot of pressure on your defense," Donovan said. "It's not going to be a game where we can never just have one guy play those guys, because they're going to be in a lot of pick-and-roll action. Our big guys are going to have to do a good job of providing help."
As for the status of Walker and Hill, Donovan said they could very well both be out for the  game, and Carter continues to be limited. However, instead of talking about what the team is losing with those players out, Donovan said these are the games where he, as a coach, realizes what he really has all on the roster.
"It's been one of those (years) where we've had to go game-to-game, but I do think when you play games like this, you're going to find out more about your team. You're going to find out where we need to get better," Donovan said.
A win tonight will be the first win over a ranked opponent this season for both Florida or Connecticut.
To hear audio with this story, click here.
Billy Donovan on Uconn's guards