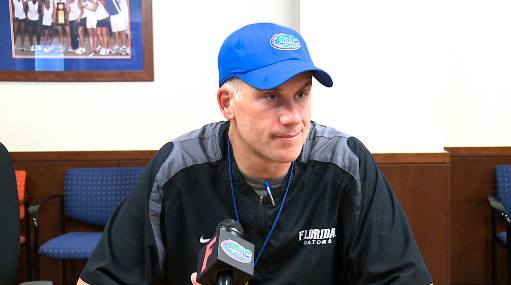 The Florida football team is concluding its final week of preseason camp after wrapping up its first practice of game prep for the season opener against Idaho next week. Gator defensive coordinator D.J. Durkin talked following Thursday's practice to discuss position battles, the squad's progress, as well as preparations for the 2014 college football season.
Overall, Durkin is pleased with the results from fall camp and believes the defense can be a productive unit.  He said the defense is replacing key starters from a year ago and despite some uncertainty in the secondary, he is confident in his young defensive backs heading into the August 30th opener.
"Today was our first day of getting into Idaho stuff," Durkin said. "It was kind of half and half. We were still doing stuff against our offense and some of the practice was against Idaho looks."
"I really like where we're at as a team," Durkin added. "We have to keep going now throughout this weekend, have a great week of practice and then let it go loose – play hard, play fast and don't worry."
The Gators seem to have made major strides with their young and talented players who have really emerged throughout camp. Sophomore defensive tackle Joey Ivie, redshirt freshmen Jay-nard Bostwick and Caleb Brantley have received a lot of attention and praise from the coaching staff throughout preseason practices. Durkin said he's proud of how well they've performed and elaborated on their readiness to get in the playing rotation.
"They've really stepped up and done a great job, he said. "I couldn't be more pleased with how they've gone through camp. All those guys have come along. All those guys have really answered the challenge. We feel much better right now about being able to roll guys up like we like to upfront. We're going to do that and we feel good about the ability to do that because of how they've gone through camp."
According to Durkin, the only two sure starters for the Gators defensive backfield as of right now, are sophomore All-American Vernon Hargreaves III and safety Keanu Neal. However, within the next few days the coaching staff would like to settle on the other two starters in the secondary, opposite Hargreaves and Neal.
"We're starting to get a better idea of where we're going to have some guys," Durkin said. "The thing about the secondary is there are a lot of guys deserving of playing time and they're going to get it. We're going to roll guys in there and play quite a few. We feel really good about the talent and the depth we have back there. A lot of those guys are without playing experience, so we're going to get them out there and see how they do and go from there."
"That's always a big thing for the players in who's starting and all that, but at the end of the day there won't be much disparity in the number of stats with those guys," Durkin said in regards to the pressure of getting a starting role. "We're planning on rolling them in."
With a group of young inexperienced, yet, talented freshmen vying for time in the defensive backfield, Durkin said the secondary will feature a rotation of players. He would like to see who is more productive and consistently performs exceptionally well during the first few games. The players that emerge and make an impact on the squad will earn more playing time – still, he's impressed with the amount of talent he's seen these past few weeks on the practice field from his true freshmen.
"The difference this year is it's not household names yet to everyone," the Youngstown, Ohio native added. "It's younger guys. We feel really good. They're talented. We're going to roll them just like we always do. Yeah, if a guy is having a good day or has the hot hand then we may go with him for a couple series. But that's all stuff we talk about every series throughout the game. That's our conversation of who we're going to go through next."
Durkin added that sophomore defensive back Marcus Maye, junior Brian Poole and senior Jabari Gorman have all have seen time at the nickel back position during fall training camp and will likely rotate for a while as well. Meanwhile, true freshman Duke Dawson is cross-training between safety and cornerback right now.
"Duke is learning both corner and safety for us," he added. "Duke's doing a great job, for a freshman to do that. Now he was here for the spring to do that, but Duke has a great demeanor about him, great practice tempo, he wants to learn. He's learning and doing a great job. He'll play."
Durkin also emphasized on how Hargreaves has truly distanced himself from the crowd and shown tremendous leadership skills – both on and off the field.
"He's having a great camp, Durkin said." "He's stepped up as a leader and I've seen him really grow as a leader. He still understands that he has to get better and has things to work on and we push him to do that every day. He does a great job – he practices hard, prepares well and we expect big things from him this year. I think it's a natural thing for him, he added. "He's got that ability and that personality. He's moved into that role really easily."
"Overall, I think our guys have really played hard and prepared well. I couldn't be more proud of them."
The Gators will kickoff their 2014 season against Idaho on August 30th at Ben Hill Griffin Stadium.
Durkin on team's progress throughout fall camp
Durkin on depth of defensive line
Durkin on Hargreaves showing great leadership
Durkin on depth of defensive line