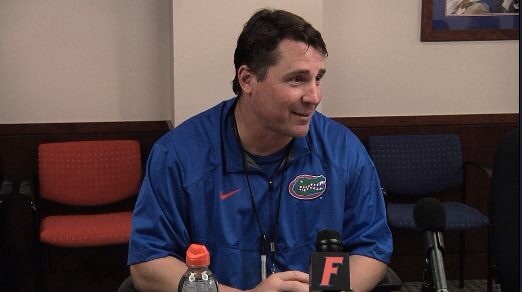 The Florida football team is just a week away from kicking off the college football season. Gator head coach Will Muschamp discussed wrapping up fall camp, position battles, some lingering questions in terms of the squad's depth chart, and final updates before the Gators begin their first Game Week of 2014.
The Gators have still not made a decision on a back-up quarterback or released a depth chart yet. Muschamp plans to release one next week and whoever gets the job done and wins the back-up role to starting quarterback Jeff Driskel will most likely see playing time in next Saturday's season opener against Idaho.
"We'll release a depth chart next week," Muschamp said. "We haven't made any decisions as far as backup quarterback, place kicker, who's starting in the secondary. None of those decisions have been made. We're going to meet as a staff this afternoon and review today's film."
"We've had discussions of where we are and we'll have another one again today and we'll meet on Sunday and we'll give the staff off Saturday and get back Sunday and have lengthy discussions again moving forward on what's best for our football program," he added.
The squad will have the weekend off to prepare for classes and the start of a new season. Muschamp emphasized that unlike last season, the injury bug doesn't seem to be an issue for the Gators, at least for now. Offensive Lineman David Sharpe who sustained a minor ankle injury will return to practice Monday. Meanwhile, sophomore defensive back Marcus Maye is expected to be back Tuesday or Wednesday after suffering a hamstring strain.
"We only had two soft-tissue issues in all of camp," Florida's head coach added. "That's outstanding. That's the best I've been around, as opposed to last year, I think we only had three as far as hamstrings, groins, those sort of things and hernias. That tells you we're training the right way. Those really are the only ones, we expect to get David and Marcus Maye back but that's it."
Some great news for two standout Gator football walk on's – kicker Frankie Velez and wide receiver Michael McNeely were awarded scholarships following Friday morning's practice for their outstanding  performance both on and off the field.
"Both of those guys will contribute to our football team," Muschamp said. "Mike has been a fantastic special team's player and just a wonderful young man and has done everything we've asked him to do. He will be a huge contributor on special teams. Frankie is still in competition for field goal mixing duties and extra point duties and I think he has done a fantastic job in camp and has been here for five years and done everything we've asked him to do as far as those things."
As of now, the only two sure starters in the secondary are sophomore All-American Vernon Hargreaves III and Keanu Neal. Since there's a lot of versatile players in the Gators defensive backfield, Muschamp plans to rotate a lot of players in the secondary.
"I know Vernon Hargreaves is going to be at corner. I know Keanu Neal is going to be at safety, Muschamp said. "Past that, Jabari Gorman can play nickel, he can also play safety. Marcus can play nickel, can play safety, Brian Poole can play corner, he can play nickel. So those guys will all cross train throughout the year."
"I think to truly get an indicator of where some of those guys are is in game time situations, and I think that they're all athletically more than capable," he added. "How they're going to adapt with going through the anxiety of game day, playing in front of 90,000 people, computing the call, communicating the call within that, taking their eyes in the right spots. There's nothing athletically those guys can't do — they're extremely talented but what would be the best combination right now, I couldn't answer that."
The Gators will kick off the 2014 season and unleash their new offense on Saturday, August 30th at Ben Hill Griffin Stadium.
Muschamp on no back-up QB decision or depth chart yet
Muschamp on backup QB decision (cont'd)
Muschamp on Monday's practice and next week
Muschamp on rotating players in the secondary