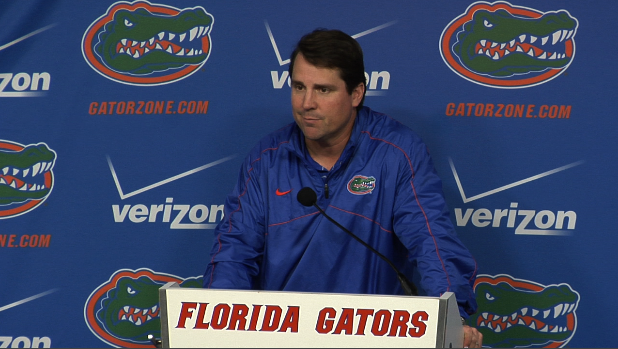 On Monday, following Florida's 30-27 frustrating loss to LSU, Gator head coach Will Muschamp said the team just needed to make "one more play."
That one play was on the verge of coming to fruition, but Florida tight end Tevin Westbrook dropped a pass in the end zone on third-and-goal late in the fourth quarter that would've likely won the game for the Gators.
Despite the loss, Muschamp knows the team still controls, to some degree, its journey to Atlanta for the SEC Championship game.
"We still have everything sitting in front of us as far as controlling our own destiny and where we want to go and that's to Atlanta. And that starts with Missouri."
Coach Boom also mentioned that both quarterbacks, Jeff Driskel and Treon Harris, will see playing time this weekend against Mizzou.
"They both will play this week. We'll work through the week and see how things go. Right now Jeff will probably start, but they both are going to play."
Driskel said he's never played in a two-quarterback system before, but he's open to it, if it helps the team.
"Treon and I are both going to work hard this week, we're both going to work for each other and we're both going to hope that the other person does well when they're in. Obviously that's something that we think is going to help the team, so if it's going to help the team, I'm all for it."
On the defensive side of the ball, the Gator defense played well for the most part against LSU, before having a coverage breakdown that led to a 41-yard completion on third-and-25 late in the fourth quarter.
Florida safety Keanu Neal said it was his fault for not communicating to cornerback Brian Poole what the play was. Neal talked about how frustrating it is to still have communication problems five games in.
"Of course it's frustrating. Like I said, it was louder in the stadium, so it's hard to hear. We just gotta look at each other more and signal better because obviously we couldn't hear each other."
Meanwhile, Coach Muschamp addressed the injuries on the team as well.
"Leon Orr (defensive lineman) is questionable with his knee. I thought he'd be back by now, but we'll see how he works this week. Matt Jones (running back), it was not a knee, it was more of an ankle that he had from the previous game. He felt it was a little loose. We think we'll get him back by Wednesday."
"D.J. Humphries (offensive lineman) had a knee in the game, we think we'll get him back Wednesday. Latroy Pittman (wide-receiver), everything has come out fine. He's day-to-day, everything is checked out to be normal. And we'll get Vernon Hargreaves back on Tuesday."
Kickoff for Florida's Homecoming game against Missouri is set for 7, but ESPN 850 WRUF has you covered with pregame coverage starting at 3.
For audio of the above quotes, click below:
Muschamp on team still controlling their own destiny
Muschamp on both QBs playing this weekend
Driskel on playing in a two quarterback system
Neal on the communication issues