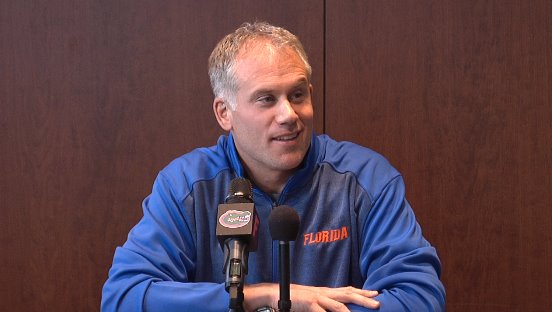 The Gator football team will take the field this Saturday for its last home game of the season after learning that Will Muschamp will not be returning as Florida's head ball coach next year. Despite the news of Muschamp's dismissal, the squad will have to overcome the adversity as they prepare to take on Eastern Kentucky to become bowl eligible. Defensive coordinator D.J. Durkin discussed the Florida program's status as well as preparation for this weekend's contest.
Durkin elaborated on Sunday's news and how the coaching staff has handled the situation.
"I guess one of the good things about our sport and how we do things is you get into a routine week to week. Obviously, there was a big occurrence that happened. That kind of upsets that routine for a little bit, but then again we just get right back into it. Yesterday was a normal Tuesday and today is a normal Wednesday –  it's as normal as it can be. Our guys they know that, they know our routine. We've been doing it for a while here. We had a good practice yesterday. They were out there and they did a nice job. I expect the same from them today and expect them to be prepared and go play on Saturday."
The Gators are in the middle of game week preparation for Eastern Kentucky, a team that is coming off a 43-36 victory over Murray State where EKU racked up 683 total yards on offense and forced an interception, making them 9-2 heading into this match up. Durkin says the Gator D shouldn't overlook the Colonels.
"We're playing a really good opponent and our guys know that. Obviously their record speaks for itself. They win a lot of games and they put up a lot of points on offense. They're a spread team, there starting tailback is a transfer from Kentucky. He a really good player; he runs hard and he's physical. They play two quarterbacks that are both really athletic. They run the ball and throw it down the field. They're a good team and they've won a lot of games for a reason. I think our guys know that, and they're preparing for it."
"We'll be challenged defensively with their tempo and different formations; a lot of them balanced and speed motion. Those are the types of things where if your eyes aren't in the right place and you're not prepared to handle it then you can give up a good run or a big pass play. You're only as good as your last game, so we need to go out there and perform at a high level."
Injury wise, the Gators expect to get starting safety Keanu Neal back on Saturday. Neal missed UF's last two games after sustaining a high-ankle sprain in the upset over Georgia.
"Keanu's a great player; he's fast, he's physical, he makes a lot of checks and calls for us on the back end, so we're thrilled to have him back. You can see it in his eyes, he had a great practice yesterday, and he's ready to go."
On the other hand, Neiron Ball and Jarrad Davis will be out of the lineup due to season ending injuries.  Durkin highlighted on a few of the linebackers who are stepping up in absence of the dynamic duo.
"Obviously Michael Taylor and Antonio Morrison will get more reps now, and they've been playing quite a bit prior to that as well. Alex Anzalone, who's getting some reps the last couple of games has been getting in there; his role will increase. Daniel McMillian will get in there and play, too. It's a good opportunity for him. Man down, man up. Those are two great kids and players that we lost, but both of them will bounce back and recover and they've got a lot of football ahead of them."
Meanwhile, junior defensive lineman Dante Fowler Jr. hinted via twitter that he is leaving to enter the NFL Draft, and Durkin weighed in on the player's status.
"Dante is a terrific football player, and he's an unbelievable guy to coach. I love coaching him. He's has a great future ahead of him and if he's deciding that's going to be at the next level next year starting next year then of course we encourage our guys and if we feel they're going to be a first round draft and that's what they'll be entitled as, then we think they should go do it. If they're not then we encourage them to stay in school and work on getting better. I'm not an NFL expert but I think Dante is a really great player and will probably be drafted very high."
Kickoff for Satuday's game is set for noon. This will be Will Muschamp's last home game as well as for Florida's 22 seniors. You can catch all the pregame action on ESPN 850 WRUF beginning at 8 a.m.
For audio on the above quotes, please click below:
Durkin previews Eastern Kentucky
Durkin on Neiron Ball and Jarrad Davis being out
Durkin on the Florida Program's status
Durkin on seniors who are leaving
Durkin on emotions of senior day