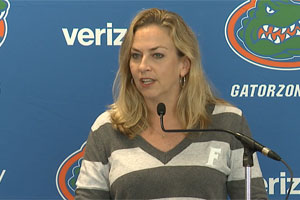 Carrying the ball over from Gator Madness this past weekend, on Sunday, the Florida women's basketball team had its first practice of the season with high energy.
Something to chomp about, the full 13 woman roster was able to participate in practice. Every Gator has started the season healthy.
Head coach Amanda Butler and her coaching staff emphasizes on the team competing and supporting each other during practices.
"Loved how we competed; I think there was a great understanding of how good we can be as a unit if we bring the level of competition against one another in practice that we need that's just going to elevate the level of the whole group and I think that was just really special," Butler said..
Standout Gators can earn a "Brick House" award during practices. The first recipient of this award was junior guard/forward Ronni Williams and sophomore guard Dyandria Anderson got it in the second practice.
"There's certain things that we're measuring that we're tracking every single practice because we want them to be the bricks; the foundation of the way that we play the way that we compete," said Butler.
5'8 senior guard January Miller is expected to bring a lot to the court this season. Last season Miller had a total of 220 points over the course of 30 games.
"January has developed tremendously. She came into college as one of those kids that are blessed in a physical way; just her natural strength and power and explosiveness; she has some things that other people don't have and never will have," Butler said.
Miller and the four other seniors on the team are expected to live up to what it means to be a Gator.
"I think it's critical and I think when you have a strong senior class, there's just a lot of things that you shouldn't have to address through the year. They're going to pass down our way of doing things. Hopefully they're going to model it, but they're also going to be talking about it. The way we think, the way we approach different things, what our expectations are in practice, the way that we compete," Butler added.
Amanda Butler was labeled the "Toughest Gator To ever Wear The Florida Uniform" by former coach Carol Ross and the hope is this Gator team will reflect Butler's toughness as a player.
Click below to listen to audio from Amanda Butler:
Amanda Butler talks about the team
Amanda Butler on Brick House Award
Amanda Butler on January Miller