The Tennessee Volunteers (5-4) will play their final non-conference game this Saturday against the North Texas Mean Green (1-8).
While this game represents no significance for their conference record, the Volunteers have plenty of reasons to look forward to this matchup. It is homecoming week in Knoxville and with a victory on Saturday, the Volunteers would officially become bowl eligible for the second straight season. The Volunteers have not been bowl eligible in back-to-back seasons since the 2009-10 seasons.
The Volunteers football team and fan base have been on an emotional roller coaster this season. Ranked as the sixth-best SEC team in the preseason and expected to win the SEC East by many college football analysts, the Volunteers are 3-3 in SEC play and were officially eliminated from SEC championship contention last weekend.
What may be more grimacing for Volunteers fans is that all of their losses have been by seven points or fewer. Despite the close defeats, Volunteers head coach Butch Jones believes that his team has learned a lot from all of their close games this season and has helped develop them into a better team.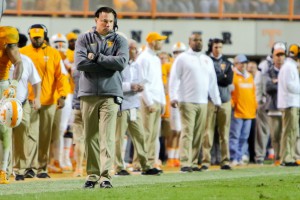 The Volunteers have won three of their last four games, including a come-from-behind victory against then ranked no. 19 Georgia Bulldogs 38-31 back on Oct. 10. In their first home game in nearly a month, the Volunteers brought their conference record to even level when they defeated the South Carolina Gamecocks last Saturday 27-24. 
One of the brightest spots for the Volunteers this season has been the play of junior quarterback Joshua Dobbs. Acting as the catalyst for the Volunteers offense, Dobbs has thrown more touchdowns this season than his first two seasons combined (13-11).
Through nine games Dobbs has accumulated 2,291 yards of total offense, 20 total touchdowns and has completed 58.6 percent of his passes. His ability to run has been key for Tennessee's ability to run the ball this season.
The Volunteers are averaging 207.3 rushing yards per game this season, third best among SEC teams. The read-option offense, ran by Dobbs and sophomore running back Jalen Hurd, has allowed the Volunteers to complete 45.8 percent of all third-down attempts and average 35.1 points per game this season.
It may not be the season that Volunteers fans were hoping for at the beginning of the season, but the Volunteers have an opportunity to end the regular season hot. Their final three regular season games are against opponents with a combined 8-19 record this season.
Even though the Volunteers are favored by nearly six touchdowns this Saturday (-41.0), Jones is not taking the Mean Green lightly as an opponent.
Kickoff in Neyland Stadium takes place at noon this Saturday on the SEC Network.