It was disappointment all around for Florida's NFL teams. In Jacksonville, the Jaguars lost 31-25 to the Chargers, breaking San Diego's six game losing streak. The Jags couldn't finish in the red zone, scoring only once in their four times inside the 20 yard line. Quarterback Blake Bortles threw his 13th interception of the season.
On the other hand, Chargers' quarterback Philip Rivers threw four touchdown passes, despite having his left ankle checked out in the locker room at the half.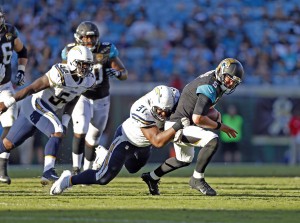 Jags' head coach Gus Bradley says his team didn't live up to his high expectations. Jacksonville will have the chance to bounce back next Sunday against the Titans.
In Indianapolis, Tampa Bay dropped their record to 5-6 when they lost to the Colts, 25-12. The Bucs were shut out in the second half and quarterback Jameis Winston was sacked five times.
This was the third straight win for the Colts, who are now 6-5. Quarterback Matt Hasselback's two touchdown passes combined with Adam Vinatieri's four field goals pushed Indianapolis to their victory.
Bucs' coach Lovie Smith says they are putting the past behind them and preparing for next week's game against the Falcons.
And the losses continued as Miami dropped their game to New York, 38-20. This was the Dolphins' fourth loss of the last five games, putting the team at 3-4 under interim head coach Dan Campbell.
Jets' quarterback Ryan Fitzpatrick proved to be too much for the Bucs to handle, as he threw for 277 yards and four touchdown passes. Chris Ivey secured the victory for New York when he broke four tackles for a 31-yard touchdown run.
Dolphins' quarterback Ryan Tannehill says he's disappointed with the way this season has played out.
The Dolphins will fight to improve their record next Sunday the 6th against the Ravens.