This week on "SEC Inside" on the SEC ESPN Network, the show will cover the 2015 SEC Championship game between the Alabama Crimson Tide and the Florida Gators. 16 time Emmy Winner Jim Jorden and his crew give different views and camera angles of last weekends championship game. Jim Jorden says the idea of this show was to bring unique access to viewers at home so they can see what it is like to be in team meetings, practices, and on the sidelines of games.
Before working with the SEC Network, Jorden spent 15 years in NFL Films and learned the philosophy for replaying events is that everyone already knows the story but it's the way you tell the story that will capture people. This philosophy is how they will show a different side of the SEC Championship. He says "SEC Inside" wanted to tell this story from the vantage points of Jim McElwain and Nick Saban, because of their history of coaching together.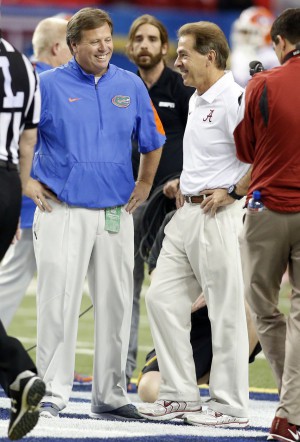 McElwain was the offensive coordinator at Alabama under Saban from 2008-2011, winning two BCS National Championship games in 2010 and 2012. The two coached together for 3 years and are now coaching against each other which inspired the story "SEC inside" is trying to capture.
Filming this show takes hours of preparation. The crew gets to the stadium five hours before kick off to begin setting up and shooting videos of the empty stadium and fans. Even before the game they are filming at team practices and meetings. Jorden says the number one thing they don't want to be is intrusive so they try to blend in with the team.
"SEC Inside" started this fall following college football in hopes to cover and show inside footage of other sports as well.
SEC Inside: SEC Championship will air tonight at 7 p.m. on the SEC Network.