The Gator women's basketball team hosts Robert Morris today at 2 pm.
The Gators and Colonials are meeting at half-court for the third time in program history. Florida leads the all-time series 2-0. Taking a stroll through memory lane, the first time these two teams met, back in 2007, it was Florida head coach Amanda Butler's second game coaching on the Gator sideline.
But, at the moment, Butler and her Gators are on an eight-game win streak.
On Monday, Florida took a trip up north to take on Wisconsin. Early in the first-half, ironically, the Gators seemed to be ice-cold on Wisconsin's home-court. The Badgers jumped out with a quick a nine-point lead, but the Gators quickly warmed up. Wisconsin had just a one-point advantage over Florida going into halftime.
During the second-half, the Gators kicked it into gear and didn't stop until they saw the finish line. Florida's guards respectfully proved a point. Cassie Peoples punched in a season-high 20 points for the Gators, and Eleanna Christinaki showed off why she's such an asset for Florida, scoring a career-high 21 points. Simone Westbrook showed dominance on both ends of the court with 18 points, five steals, six rebounds, and four assists. At the buzzer, the Gators topped the Badgers, 91-75.
Now Florida plays a Robert Morris team (4-4) that were preseason favorites to win the Northeast Conference for the third straight season.  The Colonials have not played since December 6th.
Robert Morris' Rebeca Navarro leads the country in three-point field-goal percentage. Navarro is 18-for-30 from behind the three-point line, which is 58.1 percent. Collectively, the Colonials convert 34.9 percent of their three-pointers. Robert Morris has a few Greek players of their roster in Ana Niki Stamolamprou and Viki  Karambatsa; they were teammates of Florida's Eleanna Christinaki on the Greek national team.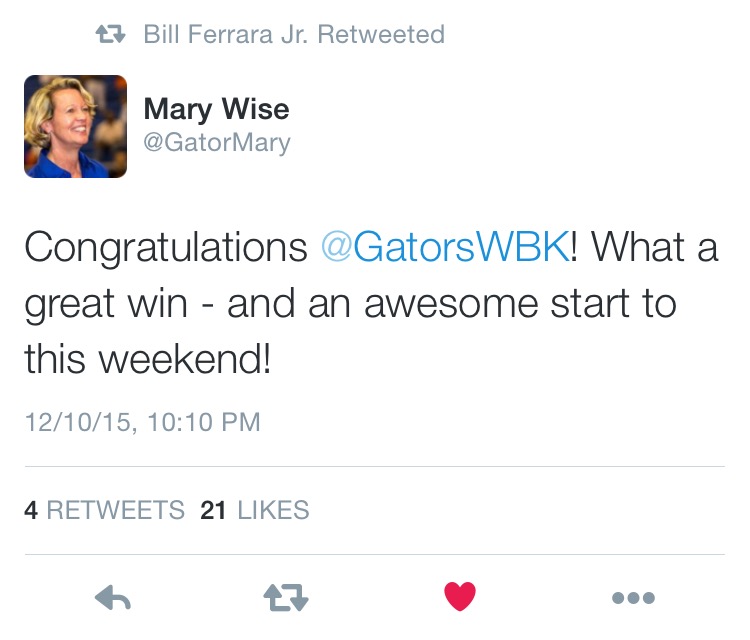 Live coverage of the game can be heard here or tune into ESPN Gainesville 95.3FM.