The Miami Heat lost to the Golden State Warriors Monday night, 111-103.
Dwayne Wade was the Heat's leading scorer for the night, totaling 20 points and 11 assists. Compare this to Golden State's leader, Steph Curry, who had a whopping 31 points and six assists.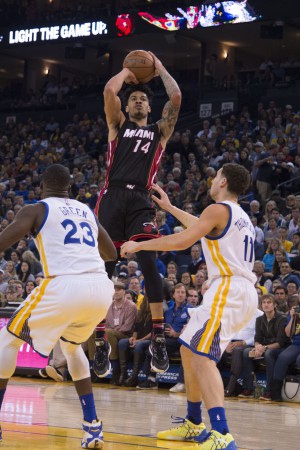 All NBA fans know that the Warriors are a tough team to beat. They have the league's leading scorer, Steph Curry, who averages 29.5 points per game. Between Curry, Draymond Green, and Klay Thompson, Golden State puts up a fight every game they play… and their 36-2 record proves that.
Curry was off on his shooting game in the beginning of the first half. He missed seven of his first nine three-point shots. Despite this unusual lapse in Curry's shooting, he came back with resiliency and ended the game with a three-pointer to make it 110-101 with 26.9 seconds left.
Miami Heat forward Chris Bosh says that his team is just not on the same level as Golden State, otherwise known as the "Splash Brothers" because of their reputation for draining three-pointers.
Bosh's teammate, Dwayne Wade, agreed that the Warriors simply outplayed them on Monday night's game.
Wade wasn't the only player to contribute points for the Heat. Forwards Chris Bosh and Gerald Green each scored 15 a piece for the team. The Heat even had a better three-point shooting percentage over the Warriors. However, all this still wasn't enough for the Heat to come out with a victory over Golden State.
#MIAvsGSW 3-point shooting HEAT – 36.8% (7-19) Warriors – 30.4% (7-23) Presented by @FanDuel.

— Miami HEAT (@MiamiHEAT) January 12, 2016
The Heat are now 22-16 after Monday night's loss. They are hoping to end their 2-game losing streak as they travel to Los Angeles Wednesday night to play the Clippers. Tip-off is set for 10:30 PM.