The undefeated Clemson Tigers (14-0) will go into Monday night's national championship game as the number one ranked team in the country. In order for head coach Dabo Swinney to lift the program's first national championship trophy since 1981 however, they'll have to overcome the dynasty that is Nick Saban's Alabama Crimson Tide (13-1). For Saban and the Alabama program, a victory would mean a fourth national championship in eight years.
It can be said that due to Saban's success and the history of the program, anything short of lifting the championship trophy would signal an unsuccessful season. For Swinney, the circumstances are a bit different. While he certainly is hopeful of winning the program's second national championship in its 120-year history, calling it a dream coming true, he is confident that this is only the first step in Clemson building a football dynasty of its own.
On the field, most of the attention for the two respective coaches will be on the other team's Heisman finalists. Alabama running back Derrick Henry, this season's Heisman Trophy winner, has been the focal point of the Crimson Tide offense throughout the year carrying the ball 359 times for 2,061 yards and 25 touchdowns. Swinney is well aware of Alabama's tendency to rely heavily on Henry, and knows his defense will have to slow him down in order to be successful.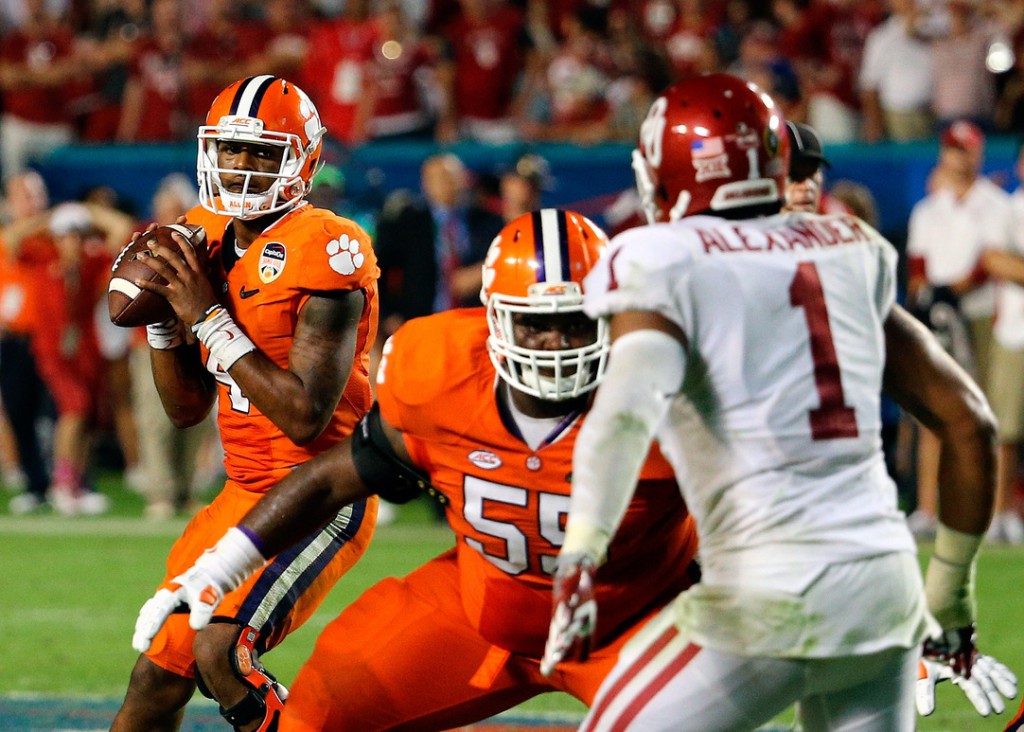 Clemson's star on offense is quarterback DeShaun Watson, who finished third on the Heisman ballot. Watson has proven to be a legitimate dual-threat quarterback this season, throwing for 3,699 yards and running for another 1,032 yards. His 43 total touchdowns are proof enough for Nick Saban to think Watson is a phenomenal player, and one his Alabama Defense will be focused on neutralizing.
Alabama's quarterback play, while not the focal point, has been improving throughout the year. Senior Jake Coker played perhaps his best game of the year last time out in the Cotton Bowl against Michigan State, throwing for a season-high 286 yards and two touchdowns. The Crimson Tide will hope for a repeat performance in the biggest game of his career.
— Derrick Henry  (@KingHenry_2) January 1, 2016
Clemson's other play makers will be the key in the Tigers keeping a balanced offense, with running back Wayne Gallman (1,482 yards rushing) and receiver Artavis Jackson (868 yards receiving) with the most likely to contribute.
The game will take place at the University of Phoenix Stadium in Glendale, Arizona.
Kickoff is set for 8:30 PM.