Tonight, the 20th-ranked Florida Gators welcome SEC-rival, Georgia, to the O'Dome. Tip-off between the Gators and Bulldogs is set for 7:00 p.m. and live coverage of the game can be heard on ESPN Gainesville/95.3 FM at 6:45 p.m.
The Gators enter this match-up with something to chomp about. Florida is coming off of a head-turning SEC road win over Ole Miss and because they began to turn heads, they were noticed. The first time since 2008-09 season, Florida earned a spot in the AP Top 25 Poll and Coaches Poll. The SEC Weekly Awards were announced earlier this week and two Gators were spotted. Eleanna Christinaki snagged the Freshman of the Week for the second time this season and Carlie Needles was honored with the SEC Player of the Week.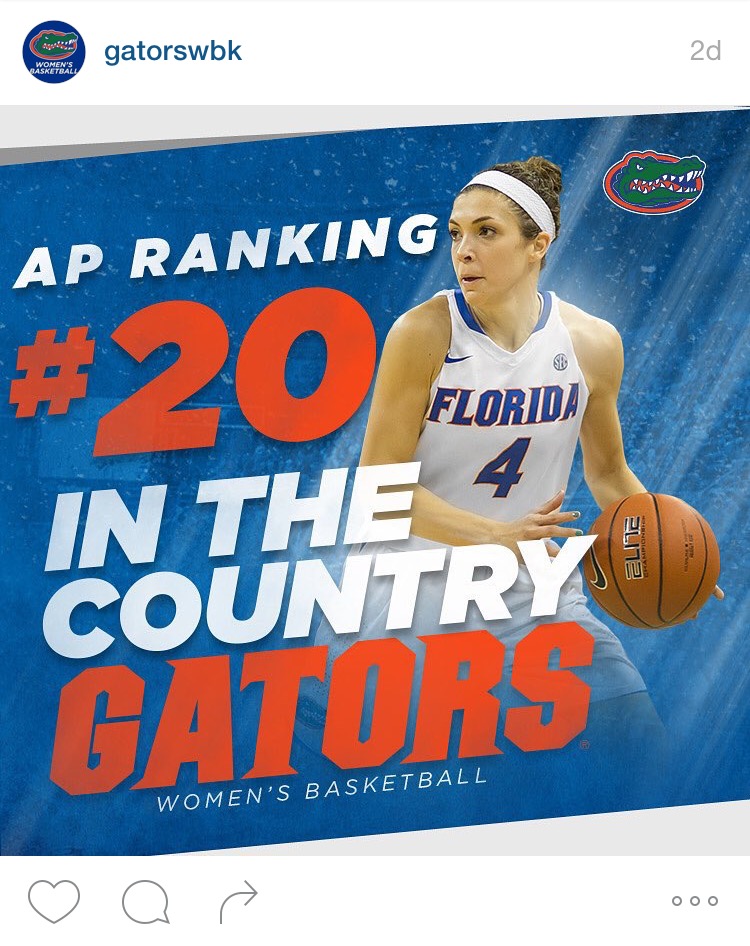 But for tonight, Florida's state of mind is on Georgia. 
The Gators and Bulldogs have gone head-to-head 66 times and the Gators trail the Dawgs in the all-time series, 15-51. Georgia has won five of the last six times they have met up, but most recently, a 52-42 decision, in the O'Dome, March 2015. 12 of the last 13 games have been decided by nine points or less.
Whether you're watching with a Gator's-eye view or a Bulldog's-eye view, here is what you won't want to take your eyes off of. The top two SEC rebounders, Florida's Ronni Williams and Georgia's Shacobia Barbee, meet inside the paint and go head-to-head. Williams averages 11.3 rebounds per game and Barbee averages 11.7 rebounds per game. The top two active career three-point field goals made leaders in the SEC will also be on the same court. Florida's Carlie Needles and Georgia's Tiaria Griffin, will meet up from behind the three-point arc. Needles has accumulated 186-career three-pointers and Griffin has racked up 183-career three-pointers.
Georgia makes the trip to Gainesville led by head coach, Joni Taylor. The Bulldogs are coming off of a loss to 10th-ranked Kentucky. Zero, is currently the number of conference wins by Georgia. With that said, the Bulldogs look to be unleashed and continue the domination over their SEC rival.
Carlie Needles says every game will be a battle, regardless if that team is ranked or not.
The last Florida win over Georgia, in the O'Dome, dates back to February 19th, 2009, when the Gators were ranked.
Tonight, the Gators (14-2) are ranked and are "Dome, Sweet Dome" to battle the Bulldogs (12-4).