It's not every day a team can say they were voted No. 1 in the nation before the season even begins, but this year the Gator baseball team can. With the only other time being in 2012, this year marks the second time in school history that Florida was voted No. 1 in the National Collegiate Writers Association Preseason Coacher's Poll (NCBWA). The SEC leads the way, as the Gators are among nine other SEC teams ranked in the preseason poll.
With high hopes comes high expectations. As the Gators continue to prepare for next weekend's season opener, head coach Kevin O'Sullivan expects outright focus and attention to detail in his ninth season as head ball coach.
O'Sullivan spoke with the media at Wednesday's practice and expressed his concerns with consistency. "The last couple of practices haven't been real special, I'll be honest with you," shares O'Sullivan. While he admits it's hard to leave practice feeling good about both pitching and hitting, he says he has found consistency in their defense. The Gator's defense showed consistency last year as well, after setting a school record with a .984 fielding percentage, the second-best clip in NCAA history.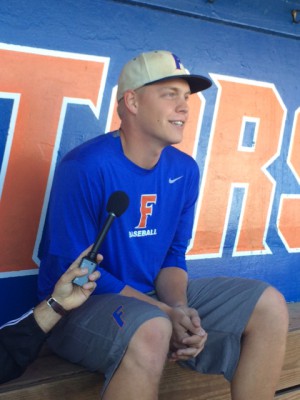 UF finished last season 52-18, after becoming the only program in the country to earn a top-eight national seed for NCAA play for the sixth time in seven years. How does a program stay that consistent for that long? Simple. Florida continues to reel in top incoming talent, as this year's incoming class alone ranks No. 1 according to Collegiate Baseball. This year marks the program's seventh consecutive time in the top eight classes in the country.
So how do the Gators take that talent and turn it into success? According to sophomore catcher and last season's NCBWA's Hitter of the Year, JJ Schwarz, the answer is simple. It's doing the little things right.  "Sometimes you don't see it, but during practice the main thing we focus on is the things a lot of people don't focus on," explains Schwarz.
While talent can take a team far, chemistry can make a team go further, and if you ask just about any Florida player they will probably tell you that this may be the best team chemistry so far. "A difference from this year to last year is the older guys are talking to the younger guys a little more," admits Schwarz. Schwarz says there is way more talking all-around.
Another key element to the program's success is their bullpen. Last season, the Gator's bullpen was effective in shutting things down, as Florida was 45-3 (.938) leading after six innings, 44-2 (.957) when ahead after seven innings, and 47-1 (.979) when leading after eight innings.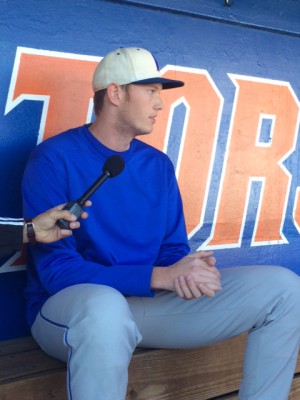 A key component for the Gator's pass and future success in the bullpen is junior LHP, A.J. Puk. This 6'7 ace led the Gators, and ranked fifth in the SEC with 104 strikeouts in 78 innings last season. He made 17 appearances, with 14 starts earning a 3.81 ERA and held opposing hitters to a .210 batting average, the fourth-lowest in the league. Coach O'Sullivan says Puk is throwing his best stuff yet and even Puk agrees he's improved in all aspects.
While there are many key components that help make up this talented Gator squad who hopes to return to Omaha, the team knows they have a long season to go and must take it one game at a time.
The Orange and Blue will open up their season at home Friday, February 19th against in-state opponent, Florida Gulf Coast University.  The Gators hold a 9-5 all time record against the Eagles, and picked up the win last time out in Fort Myers, 7-1 in April of 2014. First pitch of this three-game weekend series is set for Friday at 7:00 p.m.