Two weeks ago Texas A&M were ranked No. 8 in the country and the matchup with Kentucky in College Station would decide who's in the driving seat atop of the SEC.  Fast forward to today, and it's a tail of two different squads.
The No. 14 Wildcats (20-6, 10-3 SEC) are looking for their 5th straight SEC win while the Aggies (19-7, 8-5 SEC) have dropped 4 of their last 5 SEC games. But, Texas A&M has only lost one game in College Station this season. Kentucky Coach John Calipari isn't sleeping on A&M and expects them to play well.
Last time out both teams had impressive wins. Kentucky beat Tennessee 80-70 and Texas A&M beat Ole Miss 71-56.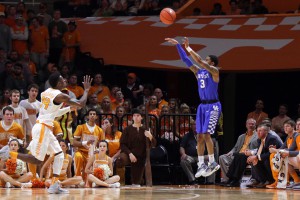 Texas A&M got back on track against the Rebels with four different Aggies recording double digit points. Danuel House led the way with 13 points, just under his 15 point season average. House has a good record against Kentucky, he scored 25 points and recorded nine rebounds in the double-overtime loss against the Wildcats last season.
Kentucky will continue to ride their momentum after avenging Tennessee. Sophomore Tyler Ulis has been receiving praise from Coach Calipari throughout the season. Calipari believes that his name should not only be associated with the SEC player of the year, but also overall player of the year.
Tip off is set for 6:30 p.m. on ESPN.