The 12-14 Arkansas Razorbacks men's basketball team will host the 10-16 Missouri Tigers this Saturday at 7:30 p.m. In their last matchup, Arkansas went on the road and pummeled Missouri 94-61. That game showed just how hard of a matchup Arkansas can be with their aggressive play on both defense and offense. Missouri was not able to effectively adjust, and were handily beaten on their home floor.
Both teams find themselves at the bottom of the SEC standings, with Arkansas especially struggling as of late. With three straight losses all coming at the hands of SEC opponents, the Razorbacks are looking to right the ship against another SEC Rival in the Tigers. Coach Mike Anderson says that the key to breaking out of their slump is shooting the basketball at a much better rate than what they currently are.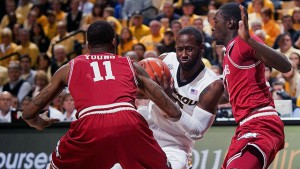 Missouri has not fared much better than Arkansas this season. With four straight losses preceding their current two game win streak, Missouri has not been able to consistently produce. Looking forward to Arkansas, Missouri knows that defense is key to their success. In their last four losses, each opponent scored more than 70 points. In their last two victories, they held both opponents to under 70 points. To beat the Razorbacks, the Tigers will have to do a better job of controlling the speed of the game. Coach Kim Anderson believes that Arkansas does a good job putting pressure on their opponents offensively while forcing mistakes on defense.
When comparing team season stats, Arkansas is leading in almost every major category. The Razorbacks average almost 80 points per game opposed to Missouri's 68, out rebounds Missouri 41 to 39, and out blocks them almost six to three. While Missouri plays at a slower pace, it will be an interesting clash of wildly different styles of play. This matchup will prove if Missouri can adjust to Arkansas' consistent onslaught of attacking the rim and defensive pressure, while also seeing is Arkansas can counteract Missouri trying to slow the pace of the game.