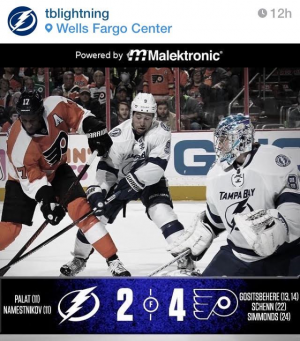 Tampa Bay snapped their nine game winning streak last night, losing  2-4 in Philadelphia.
Lightning Head Coach Jon Cooper says that this loss is a learning experience for the entire team.
Needless to say the Lightning were confident going into their game against the Flyers. Not only had the Lightning won their last nine games, but in their last 18 games against Philadelphia, the Flyers had been victorious in only four of them.
The first goal was scored within five minutes of the first quarter, by Lightning 'triplet' Ondrej Palat. The Flyers were able to tie the game up 1-1 before the half.
Heading into the third quarter, Rookie Shane Gostisbehere scored for the Flyers on a Power Play. By the end of the third quarter, Philadelphia was up 3-2, and sealed the win with a goal in the last 30 seconds of the third quarter to make it 4-2.
Lightning center Steven Stamkos says that his team played right into the Flyer's fans.
The Lightning have won 39 and tied four of their total 66 games this year. Tonight they will host the Boston Bruins, who are coming off of a 5-4 overtime win against the Florida Panthers Monday night. The Bruins are just shy of Tampa Bay's record, standing at 37-23-7 and ranked second in Atlantic Division.
Stamkos and the Lightning are hoping to reach 40 wins tonight as they take on Boston. The puck is set to drop at 7:30 p.m. in Amalie Arena.