To kick off the SEC tournament on Wednesday the Tennessee Volunteers (No.12) look to snag a win against the Auburn Tigers (No.13). This is not the first time that Auburn and Tennessee will be meeting each other this season. In early February the Tigers traveled to Knoxville but leftwith a 71-45 loss against the Volunteers.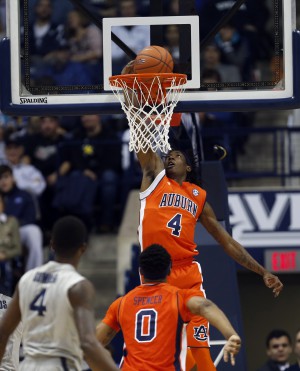 Tennessee is 13-18 overall and 6-12 in the SEC while Auburn is 11-19 overall and 5-3 in the SEC.
The volunteers lost their last four regular season game by an average of 19 points. Senior Kevin Punter, the teams leading scorer will have season ending surgery on Tuesday to repair a stress fracture in his right foot. Coach Barnes says that loosing Punter has caused the team to make a new game plan.
The Tigers are coming off of a 79-66 loss to Mississippi State. Coach Perl says that they are the healthiest they have been all season and getting T.J. Dunans back has been beneficial.
Dunans a Junior guard for the tigers is tied for 8th in the SEC with 1.5 steals per game, Averaging  12.4 points, 2.6 rebounds and 2.8 assists per game and shooting 52.3% from the floor, 38.7% from 3-point range and 64.5% from the free throw line.
The basketball court for the @SEC Men's Tournament is ready for Round 1 with @AuburnMBB and @Vol_Hoops pic.twitter.com/NNnUOmaUft

— Connor Sports (@Connor_Sports) March 7, 2016