A tale of two cities is the story of Thursday's SEC tournament matchup between the Florida Gators (18-13) and the Arkansas Razorbacks (16-15). Each team will come into the game with their own unique philosophy and recent momentum. The Gators have lost four out of their last five games degrading them from a near NCAA Tournament lock, to most recently, Joe Lunardi's first four out. For the Razorbacks, it's nothing but positivity, as Arkansas has won four out of their last five games, including two road matchups.
Skill wise, the two teams from Gainesville and Fayetteville respectively couldn't be more different. While Florida's offense has been quite stagnant this season, scoring only 74 points per game, and shooting the rock at a low 42.4 percent from the field and SEC second worst 31.4 percent from downtown, their defense has been stellar. The Gators rank 28th in the nation in rebounds per game, grabbing 40 boards per contest and allow a solid 68.7 points per game to opponents.
The @GatorsMBK 1st to practice at #SECTourney today! pic.twitter.com/OKMRdIXic4

— Sean Farnham (@SeanFarnham) March 9, 2016
For the Razorbacks, it's been their efficient scoring and outstanding ball movement. Arkansas ranks third in the SEC in point per game with 78.7, and is one of the best three point shooting teams in the nation, ranking 11th in the nation in three-point percentage at 40.2 percent. The Razorbacks are the only team in the SEC to shoot above 40% from beyond the arc.
Two of Arkansas' top three scorers rank in the top four in three-point percentage in the SEC. The list includes junior guard Dusty Hannahs, the team's second leading scorer, averaging 16.0 points per game, shooting 44.1 percent from beyond the arc, and Anthlon Bell, who has knocked down 44.7 percent of his three point looks this season, putting up 15.9 points per game.
If the Gators only had to focus on perimeter defense, Coach Mike White would have a much easier time preparing for this game. Unfortunately, Florida will have to deal with Moses Kingsley, who ranks third in the SEC in rebounds per game and second in blocks per game. Kingsley's stat line includes 16.1 points, 9.2 rebounds and 2.4 blocks per game. He's been efficient at dominating the interior, shooting 55.6 percent from the floor. With John Egbunu doubtful for Thursday's game, and only Kevarrius Hayes and Schuyler Rimmer available at center, the Gators could be in for a thrashing inside.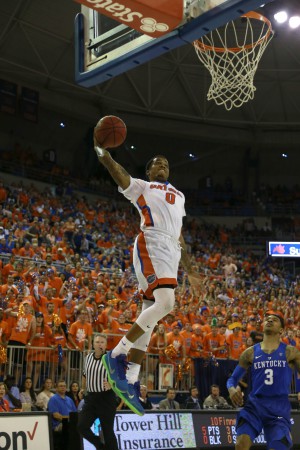 Despite Florida's recent struggles, they're still coming off of a solid win vs. Missouri and have had a couple players honored by the SEC. Dorian Finney-Smith was named to 2nd Team All-SEC, while KeVaughn Allen was named to the SEC All-Freshman team. The Gators are also 3-1 all-time vs. Arkansas in the SEC Tournament, with the two squads last squaring off in 2009. When the teams played each other in their only matchup earlier this season, Florida won 87-83 at the O'Connell Center. In that contest, four of Arkansas' five starters scored in double digits, led by Anthlon Bell's 24, but Dorian Finney-Smith's stellar 22 point, nine rebound performance was too much. The Gators had five different double-digit scorers in that one.
INJURY UPDATE: Forward Alex Murphy is still out with plantar fasciitis in his right foot, while center John Egbunu is doubtful after suffering a torn ligament in his thumb in practice this past week. Egbunu has been cleared to play, but is still being listed as doubtful.
BROADCAST INFORMATION: Thursday's matchup tips off at 1 p.m. at Bridgestone Arena in Nashville, Tennessee. The game can be seen on the SEC Network with Brad Nessler and Sean Farnham on the call and can be streamed on the WatchESPN app. The game can be heard as always on ESPN Gainesville 95.3 FM with coverage starting at 12:25 p.m. Mick Hubert and Mark Wise are on the call.
NEWS OF NOTE: Anton Beard and KeVaughn Allen were on the same AAU and high school basketball team growing up in Arkansas. It should be a fun matchup to watch on the court knowing the two's history.
Only 1 of these teams aren't in the field in #bracketology: @GatorsMBK compared to 3 in the field as of this morning pic.twitter.com/l0SvJw2sa1

— Sean Farnham (@SeanFarnham) March 9, 2016