Two different playing styles will clash tonight as No. 7 seed Wisconsin (20-12) takes on No. 6 seed Notre Dame (21-11) in an East Regional battle. Wisconsin is a team that loves to slow the game down and dictate their own pace. Meanwhile, Notre Dame plays fast and scores a lot in transition.
Going into tonight's game, Wisconsin is riding a wave of momentum after a buzzer-beater winner to upset No. 2 seed Xavier. Bronson Koenig was the hero for the Badgers with his three-pointer as time expired. Koenig led the way with 20 points and all six of his made shots came from beyond the arc.
But the story for Wisconsin is their defense. This is a team that has no problem playing in low scoring affairs with their recent example of beating Pittsburgh 47-43 in the tournament. In that game, 15 of those 47 points came off of turnovers. The Badgers have also shown their commitment to the boards by out-rebounding two teams in Xavier and Pittsburgh who are among the top rebounding teams in the country.
The football tradition of Notre Dame isn't overshadowing how well the basketball team is playing right now. The Irish are looking to make back-to-back appearances into the Elite Eight and are relying on their offense to do so.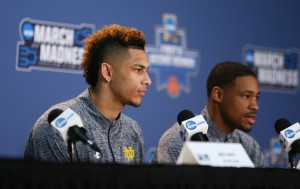 Zach Auguste and Demetrius Jackson are two playmakers who are producing a lot of points in the NCAA Tournament. Auguste has recorded a double-double in both games so far while Jackson continues to illustrate his scoring prowess, averaging 15.5 points per game in the tournament.
Tip-off is set for 7:27 p.m. at the Wells Fargo Center in Philadelphia.