The Florida Gators men's basketball season has come to an end after a five-point loss in Washington, D.C. to the George Wasington Colonials in the quarterfinals of the NIT. While many Gator fans have come to expect Final Four births and national championships, the start of the Mike White era has given promise to Florida fans, after an abrupt departure by Billy Donovan left the program in a state of question and unknown for the future.
UF finished the season with a 21-15 record, good enough for an average eighth place finish in the SEC. Plagued by poor shooting, the Gators' lack of a pure, spot-up three-point shooter had them finish second to last in the SEC with a collective average of 31.2 percent from downtown. From the free-throw line, Florida encountered a similar struggle, finishing among the bottom three teams in the conference in free-throw percentage, with an average of 64.3 percent.
While the Gators couldn't get it down from beyond the arc or at the charity stripe, their success this past season thrived on their ability to lock down on defense and grab boards on both ends of the floor. Florida allowed an average of 72 points per game this season, good for 57th in the nation. On the glass, the Gators finished second in the SEC, with 40.1 rebounds per game.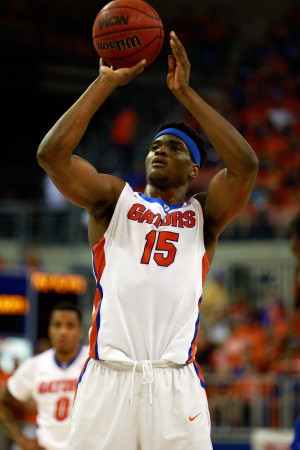 The season, which many have described as a transitional year, featured many new faces to Florida faithful, with a small veteran presence. And while the number of veterans may have been few and far between, including only three Gator seniors, one wily vet led the way for Florida this year. Without him, who knows where the Gators would've finished this season.
That man is Dorian Finney-Smith. While the senior started his career at Virginia Tech before coming to play for Billy Donovan, the player known affectionately to the Rowdy Reptiles as "DoeDoe" was the team's true leader on the floor this season. Finney-Smith finished with seven double-doubles this season and an average of 14.7 points and 8.3 rebounds per game. Finney-Smith's average point total and minutes played per game have increased every season he's been at the University of Florida. While Finney-Smith is projected as a middle of the pack second-rounder, any team will be lucky to have his heart and chutzpah on their roster.
Looking forward to the future, the Gators will return a key core in John Egbunu, KeVaughn Allen, Devin Robinson and Kasey Hill.
John Egbunu anchored the interior this season, giving Florida their best pure rebounder since perhaps the Patric Young days. Egbunu averaged 11.5 points and 6.5 rebounds per game this season and recorded a Gator single-season record with 67 dunks this year. Egbunu finished second on the team in double-doubles with six this season and is the projected starter at center for next season. Despite tearing a ligament in his right thumb during the SEC Tournament during a practice, and missing the NIT, Egbunu is expected to make a full recovery for next season and be ready for the team's opener.
KeVaughn Allen is the Gators' next key piece for next season. Allen emerged as a prolific scorer for Florida this season, finishing second in points per game with 11.6 per contest. He showed flashes of greatness this season in a 32 point outing vs. FSU during the team's non-conference schedule and capped off the season with a 22 point, four rebound outing in the squad's final outing of the season vs. George Washington. If Allen can fix his shot selection just slightly, his efficiency could be through the roof next season.
With 9 points tonight, Dorian Finney-Smith finishes his @GatorsMBK career with 1,220 – 36th all-time at UF.

— Alex Maminakis (@alexmaminakis) March 24, 2016
Devin Robinson has continued to get better every season he's been at the University of Florida. Robinson came into Gainesville as an under-weight, scrawny stretch-four with a knack for shooting the basketball. In his first season with the Gators, Robinson averaged 6.4 points and 2.8 rebounds per game on 40.2 percent shooting from the floor and an average of 25.6 percent from downtown. This season, DRob improved to a stat line of 9.0 points and 5.6 rebounds per game, shooting 45.8 percent from the floor, 5.6 percentage points better than last season, and a greatly improved 34 percent from beyond the arc. If Robinson can continue to improve as he has in each season with the Gators, Florida fans could be in for a treat next year.
The final mainstay returning for Florida next season is Kasey Hill. Hill left a bad taste in Gator fans' mouths early in the year, with an abysmal 41.3 percent average from the free-throw line and subpar 23.5 percent average from three-point range in the team's first thirteen games of the season. Hill finished the season averaging 9.1 points and 3.3 assists per game. Where we really saw a change from the third year guard was during the post-season. In the SEC Tournament and NIT, Hill averaged 15.4 points and 2.4 steals per game. In that same span, Kasey shot 46.2 percent from the floor, 41.7 percent from downtown and 52.2 percent from the free-throw line, all better than his season averages in each respective category. If Hill can continue to thrash through the lane, limit his three-pointers and use his athleticism to break down defenses, he could be the perfect score-first point guard for Head Coach Mike White next season.
While Egbunu, Allen, Robinson and Hill headline the key returners for next season, Gator fans should be excited to see the development of Kevarrius Hayes and the impact of redshirt freshman Keith Stone. Hayes only averaged 11.5 minutes per game this season backing up John Egbunu at center, but when Egbunu was declared out for the NIT with a torn ligament in his thumb, Hayes had to step up into the spotlight and make his presence known. Hayes' minutes per game nearly doubled in the NIT, playing an average of 24.7 minutes per game in the post-season. He went a near perfect 13-14 from the floor in the NIT, averaging 10.7 points and 3.7 rebounds per game. Hayes' post-play seemed to improve ten-fold in the post-season when the Gators needed it most. While John Egbunu will more than likely be Florida's starter at center next season, Hayes impact on the floor will certainly increase, as the freshman's minutes are expected to rise next season when he becomes a sophomore.
.@K5allen1's 418 points as a freshman trail only @Nick_Calathes15, @RealDealBeal23 & @K_Boynton1 over past 20 yrs. pic.twitter.com/N0znpSUkmY

— Gator M-Basketball (@GatorsMBK) March 24, 2016
Keith Stone's redshirting was a surprise to many Florida fans this season, but his impact on the court next season certainly won't be. Stone was ranked 82nd in the 2015 ESPN 100 and was pegged as a four-star recruit by Rivals. Stone is a 6'7″, 215 pound small forward, who similar to Devin Robinson, can score at will when he's hot with his unbelievable athleticism. While we don't know too much about Stone as he sat out this past season, what we do know is that the Gators could always use another scorer, and that's exactly what Stone can bring to the team.
Recruiting encompasses the final portion of our season recap and is certainly an important facet of next season's preview. The Gators have only garnered two commits this season in point guard Eric Hester and power forward Dontay Bassett. Both recruits have received three-star rankings from ESPN and played high school together at Oldsmar Christian in Oldsmar, Florida. Bassett is a high motor player, who grabs rebounds like nobody's business. Hester fits Mike White's run-and-gun style, and gives the Gators an extra point guard, which was a position of uncertainty this past season.
The Gators will play their non-conference home games in Orlando and Jacksonville next season, with renovations to the O'Connell Center expected to be finished in late December. Florida will return to the brand new O'Dome to open up their SEC schedule. Gator fans should be excited for an improved season next year, as Mike White and his squad try to claim their stake in the crowded Southeastern Conference.
Our season came to an end last night but we are looking forward to next year & the new @OConnellCTR. @MikeWhiteUF pic.twitter.com/Cc4oNW1zS0

— Gator M-Basketball (@GatorsMBK) March 24, 2016