The National Championship game is set. No. 1 seed North Carolina will take on No. 2 seed Villanova. The Tar Heels will be playing in their 10th national championship and first since winning it in 2009 while the Wildcats will be playing in their third national championship and first since winning it in 1985.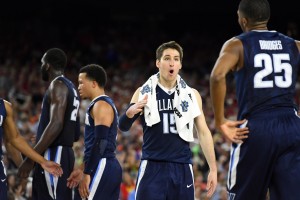 Both teams blew out their Final Four opponents. The Wildcats defeated the Oklahoma Sooners 95-51. It was their fourth tournament victory by at least 19 points. The 44-point margin was the largest in Final Four history. Junior guard Josh Hart scored 23 points on 83 percent shooting and grabbed eight boards. As a team, the Wildcats shot 71 percent from the field and missed just five shots in the second half. It was the best shooting performance of the tournament since the 1985 Villanova Wildcats shot 79 percent from the field against the Georgetown Hoyas in the National Championship.
The game was close at first with both teams trading scores for the first eight minutes. After trailing 17-16, the Wildcats went on a run and never looked back, outscoring the Sooners 79-34 the rest of the way. At one point, the Wildcats went on a 25-0 run in the second half. Naismith Award winner Buddy Hield, who was scoring at a historic rate in the NCAA tournament, was held to his second worst scoring performance of the season as the Wildcats limited him to just nine points on 33 percent shooting. After the game, he gave Villanova credit for their defense.
Villanova and UNC have had no problem scoring so far in the tournament. pic.twitter.com/GxVxVbWfSO

— ESPN Stats & Info (@ESPNStatsInfo) April 3, 2016
The Tar Heels defeated the Syracuse Orange 83-66. North Carolina has beaten every tournament team it has faced by double digits. Four Tar Heels scored in double figures against Syracuse while sophomore guard Joel Berry II dished out 10 assists. The Orange had no answer for North Carolina's interior presence as they were out-rebounded 43-31. The Tar Heels have out-rebounded their tournament opponents by an average margin of 39-29 and have scored at least 83 points in every game. Senior guard Trevor Cooney scored 22 points on 50 percent shooting and made 50 percent of his threes in a losing effort for the Orange. The Tar Heels, who started the season ranked number one, are the 24th preseason number one team to reach the national championship.
The game begins tonight at 9:19 p.m. with coverage on ESPN Gainesville 95.3 starting at 6:30 p.m.