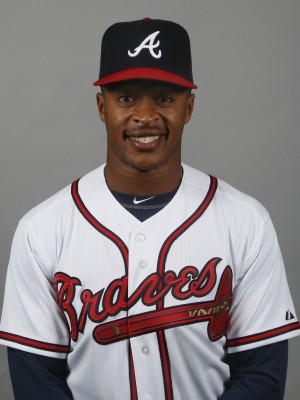 A local baseball prospect that was called up to the big leagues made his debut on Monday in Washington, D.C. — and left the game bloody.
Mallex Smith, a former stand-out at Santa Fe College in Gainesville, was called up by the Atlanta Braves on Sunday after the team placed Ender Inciarte on the 15-day disabled list. Smith averaged .296 at the plate in the minors and stole 227 bases.
Smith, who started in the outfield for the Braves, attempted to steal a base in the fourth-inning which resulted in a cut in between his eyebrows; his helmet slid off his head and bounced off the ground and hit him in the face. When he stood up, blood trickled down his face. The Braves pulled Smith and have listed him as day to day. Smith hit a single in his debut in a 6-4 loss to the Nationals.
Smith's team looks like his forehead this season — wounded.
The Braves are the only team in the National League without a win so far this season. The Minnesota Twins are the only other team in the MLB without a win. The Braves are 0-6 for the first time since 1988.
The Braves bullpen has been especially bad with an earned run average of 6.67 and the team has batted in only 20 runs so far this season while allowing their opponents to bring in 40 runs.
Braves manager Fredi Gonzalez said he wants his team to shut down competition, but the Braves aren't there yet. However, Gonzalez says the team is getting close.
The Braves face the Nationals again tonight looking to get their first win on the season. The Braves' right-hander Jhoulys Chacin will face Nationals'  left-hander Gio Gonzalez.
To see Smith's wipeout, view the link below.