It has been nearly 10 years since the Miami Hurricanes last won a bowl game. The date was December 31, 2006. The Hurricanes took on Nevada in the MPC Computers Bowl and squeaked out a victory with a score of 21-20. Since then, the team has dropped six bowls in a row and gone another three years without any postseason ball, two of those coming due to a self-imposed ban in the midst of scandal allegations.
Plainly said, there hasn't been too much to cheer about for Hurricanes fans for a while now. Even last season, while the team looked strong at some points, at other times they looked demoralized and shaken. A bitter loss to Florida State and brutal beat downs from Clemson and North Carolina left a sour taste in the moluths of some Hurricanes fans. Mark Richt now looks to remove that taste with some sweet, sweet victory.
The former long time Georgia head coach and offensive guru hopes to lead a new regime for the Hurricanes, pushing them to heights they haven't seen in many years. He had a good track while with the Bulldogs, winning SEC Coach of the Year two times, leading the team to two SEC Championships and six SEC East Division titles. Richt had a total of 136 victories while at Georgia.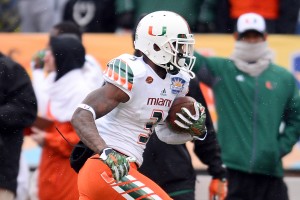 Now, returning to the place where he played quarterback under Hall of Famer Jim Kelly, Richt wishes to push the success of the program and build a winning, cohesive unit. This of course starts with the offense, which is led by junior quarterback Brad Kaaya. In his previous season, the signal caller threw for 16 touchdowns and five interceptions. While those numbers aren't bad, they certainly could be better. Richt will look to get the most out of his quarterback, and Kaaya says that the new system is definitely complex, but something that is being worked hard on.
With wide receivers Rashawn Scott and Herb Waters- two out of the top three leaders in receiving yards last season- no longer on the team, Kaaya will have to look for senior Stacy Coley to make a huge jump and be the number one receiver that will most likely be expected of him. There will also be high expectations for the incoming freshmen. Three four star wide receiver recruits will be adding to Kaaya's weapons, and with that much talent coming in at one position so quickly, there is bound to be an impact player among the many.
The play of the quarterback will also translate to the freedom of Joseph Yearby, the junior running back who eclipsed one thousand rushing yards last season. Yearby was the leader on the team for all-purpose yards, grabbing 1,275, and may have an even better year with a new system and a quarterback that won't rely so heavily on him.  Sophomore running back Mark Walton also had a very impressive year, totaling 461 yards and 10 touchdowns in his first year with the program.
Miami's defense, which struggled mightily against big competition, looks to get a boost with new defensive coordinator Manny Diaz, who served as the defensive coordinator for the Mississippi State Bulldogs last season. There is reason to be excited, as the Hurricanes amassed five four-star prospects to help their defense. A breath of fresh air in the defense could rejuvenate the unit.
The team has a lot of promise, but everything needs to work out in practices and the upcoming spring game on Saturday to further the hype and excitement. Fans will have a chance to see the Canes take action and get an early judgement of what Mark Richt is trying to do with the team.