The best of Major League Baseball will showcase their skills at tonight's 2016 All Star Game. The American League-National League matchup, also known as the "Midsummer Classic", will take place this year at San Diego's Petco Park.
The world will be watching.

July 11-12. San Diego. LET'S GO.https://t.co/UoF7mjkJUf

— All-Star Game (@AllStarGame) June 16, 2016
Each team is made up of players from the respective league. The rosters for each league are determined by a combination of fan voting, player voting, league manager picks, and a Final Vote. The Final Vote allows the fans to pick an additional player for each team from a ballot created by the team managers and the Commissioner's Office.
The Chicago Cubs made history this year as they sent all four of their infielders as starters to the game. The Cubs also sent pitchers John Lester and Jake Arrieta to the mound. Dexter Fowler was rightfully voted in as well, but he is on the disabled list and ineligible to participate.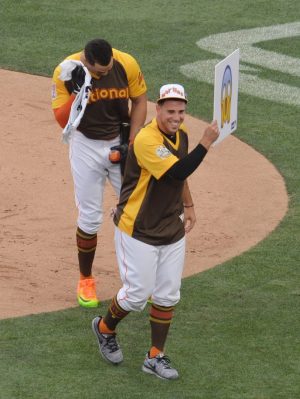 Miami Marlins  Giancarlo Stanton had an incredible showing on the first day of the All Star Break, winning the Home Run Derby and breaking the record for most homers, but he was not voted to the National League roster. However, the Marlins did send outfielder Marcell Ozuna, and pitchers Jose Fernandez, Fernando Rodney, and A.J. Ramos. Both the Tampa Bay Rays and the Atlanta Braves were only able to get one player to the All Star game. The Braves will be represented by pitcher Julio Teheran and the Rays will have pitcher Alex Colome. The Rays did have Evan Longoria on the Final Vote ballot, but he was not chosen as the American League's 34th player.
This will be the last All Star game for the Boston Red Sox's David Ortiz, as he is retiring after this year. Marlin's Jose Fernandez plans to toss Ortiz some easy fastballs and watch the home runs fly.
Even though the All Star game is a symbol of the midway point in the baseball season, the result of the game does have implications on the season: The winning team (American League or National League) gets home field advantage for the World Series.
Jose Fernandez has a parting gift planned for David Ortiz in his final All Star Game. https://t.co/m7DuVEyeYq pic.twitter.com/pPpbPPCuPf

— SportsCenter (@SportsCenter) July 12, 2016
The 2016 All-Star Game will be on ESPN and ESPN 95.3 FM starting at 7 p.m.