Current Ohio State football coach, and former Florida Gator head coach Urban Meyer is preparing himself for the future of the Ohio State program. The Buckeyes are coming off a 12-1 season that ended with them dominating Notre Dame 44-28 in the Fiesta Bowl, and they are just two years removed from being the national champions after taking down Oregon in the first ever College Football Playoff.
Despite all this success the Buckeyes have some big questions to answer going into this season. Ohio State lost a lot of key, talented players to the NFL draft. They had five players get selected in the first round and 12 players were drafted in total. The Buckeyes led the entire draft in players selected with Clemson the second highest with nine players taken.
Ohio State joined Miami (2004) in having 5 players taken among the top 20 picks of an #NFLDraft.
Round 2 starts at 7 ET (ESPN/Watch ESPN)

— ESPN Stats & Info (@ESPNStatsInfo) April 29, 2016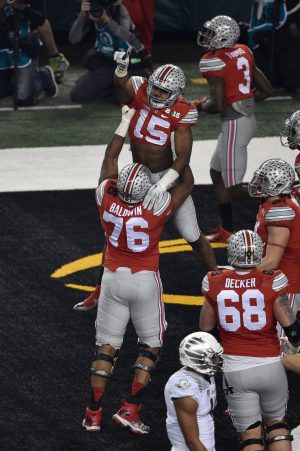 Meyer knows it will be tough to replace arguably one of the best teams and recruiting classes in history. One of the hardest players to replace though this season for Ohio State will be running back Ezekiel Elliot. Elliot powered the Buckeyes offense last season racking up 1800 yards and 23 touchdowns in just 13 games. Meyer expects freshman running back Mike Weber to be the starter for the upcoming season. Senior Bri'onte Dunn was anticipated to compete for the starting job, but was kicked off the team for violating team rules.
Ohio State does have stability at the most key position on the team, quarterback. J.T. Barrett will be the starter come September and the versatile threat is already earning Preseason All Big-Ten honors. In total the Buckeyes lost 16 starters from last season, but with a three time national championship coach at the helm finding new, young talent shouldn't be an issue.
The Buckeyes open up the season at home against Bowling Green on September third.