The Miami Marlins hope to win the series against the Philadelphia Phillies today after getting a 5-0 last night.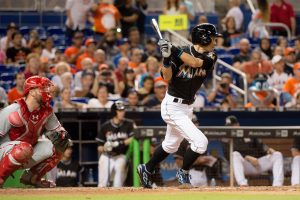 Miami's Giancarlo Stanton helped his team break out of a scoring slump with two RBI's, while Ichiro Suzuki singled in the eighth inning to move him to within three hits of the 3,000 career hit mark.
Starting pitcher Tom Koehler used that support to get the win on the mound.
Before Tuesday night's game the Marlins had been shut out for consecutive games and had gone 24 innings without a run before Martin Prado was able to double in the sixth inning and score on Stanton's two-out single. Stanton had a couple of words to say after his team was shut out for a couple of games. The Marlins put the game away by scoring four runs in the eighth inning.
As for today's game a Florida native will be the starting pitcher for the Phillies. Zach Eflin, who is from Orlando, and was drafted in the first round out of high school with the 33rd pick overall in 2012, will be pitching in his home town for the first time in the Major Leagues. Eflin will will go up against left-hander Adam Conley who has recently emerged as Miami's second starter.
First pitch is set to begin at 12:10 p.m.