In 2015, the Gators finished second in the SEC behind Alabama with 40 team sacks. The defensive line's impact was obvious last season and Florida's eventual conference rankings tied for third and first in interceptions (14) and fumble recoveries (11).
Gators offensive lineman Martez Ivey says Florida's defensive line makes the offense better everyday, stating that their own defense is the best unit the Gators will face this season.
According to Gator senior DL Bryan Cox, Jr., Florida is looking to have eight or nine defensive linemen who can make a true impact on the game when their number is called. Florida's defense was ranked eighth in the FBS  last season, and that ranking could improve if the defensive line continues to grow through fall camp.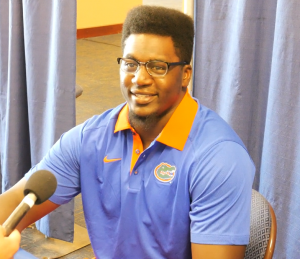 Cox is confident in his unit, giving praise to fellow linemen CeCe Jefferson and Jachai Polite, two freshmen who have stepped up and bought into Florida's gameplan.
Meanwhile, veteran leaders like Caleb Brantley will continue to attract double teams, serving as anchors on the line of scrimmage and making Cox's job much easier. With Florida's secondary losing talented names like Vernon Hargreaves and Keanu Neal to the NFL, the Gators will need to get after opposing quarterbacks quickly and often.
Meanwhile, Florida finished 25th in run defense last season, and it will be difficult to replace leaders like Antonio Morrison and Jonathan Bullard. Florida's run defense will be tested throughout this season, with five of their SEC opponents ranking in the top ten of last season's conference rushing rankings.
Florida sophomore OL Tyler Jordan isn't concerned, stating that the Orange and Blue's defensive line is one of the best he's ever faced.