The Tampa Bay Buccaneers host the Cleveland Browns at the Raymond James Stadium Friday at 8 p.m., their third preseason game. The Bucs have a lot to focus on for this game including—starting faster on offense, avoiding turnovers, and having a stronger offensive line.
First Home Game MOOD:#CLEvsTB #SiegetheDay @DSmith_76 pic.twitter.com/wp2KY4v691

— Tampa Bay Buccaneers (@TBBuccaneers) August 26, 2016
In the first two preseason games against the Jaguars and the Eagles, the Bucs offense did not score at all until the third possession. Last week against the Jags, quarterback Jameis Winston went 0-for-6 in the first quarter and failed to complete a pass. Winston also turned over the ball during the second offensive possession in both games. Going into his second year playing for the Buccaneers, he knows he really needs to prove himself and be a leader for the team.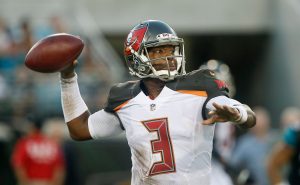 Winston had a great season last year. Statistically he is one of the best rookies in NFL history by completing 58.3% of his passes for 4,042n yards (third best in NFL history), with 22 touchdowns (fourth best) and 15 interceptions.
His goal this year is to keep on trying to eliminate turnovers, which was Winston's biggest obstacle last season. Other than practicing with his team at training camp this summer, Winston also takes the time to watch film of other NFL quarterbacks to analyze what they do so he can improve his skills. Winston is no longer the 21- year-old rookie—he wants his team to truly respect him and know that he takes his job as quarterback seriously on and off the field. His hope is that his teammates take their job seriously as well, whether it is a preseason game or rivalry game. Winston hopes the offense truly gives it there all Friday and not treat the game like it is preseason.
Another aspect the Bucs need to improve is their offensive line, but it doesn't help that many of the Bucs starting players are injured. Starting left guard J.R Sweezy has been out all of off-season and training camp as he recovers from a back procedure. Starting right guard Ali Marpet is also injured, showing up to practice in a walking boot. Rookie Caleb Benenoch just returned from an ankle injury but has been out for a month. The Bucs still have some players that can carry the weight until those players return, including Kevin Pamphile at left guard, center Evan Smith will play right guard in Friday's game, and Joe Hawley will start as center.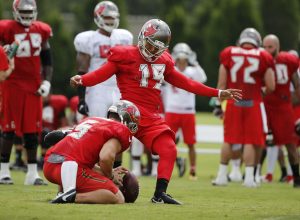 A lot of pressure tonight will be on the new Tampa Bay kicker, Roberto Aguayo, who has already missed some field goals during preseason play. With the missed field goals attempts last week at Jacksonville, all eyes are on the second-round pick out of Florida State. Aguayo is the only kicker on the Tampa Bay roster so he needs to improve and his goal tonight is to not over think and just to kick it!
Another reason to be excited for tonight's game is to finally see the newly renovated Raymond James stadium. With four "tower" video boards, end zone boards four times bigger as the old ones, and a six-foot ribbon going from one end to end on both sides of the stadium. Truly is a sight to see