The Tampa Bay Buccaneers ended their preseason with an even 2-2 record. But even after moving their final game against the Washington Redskins up 24 hours to avoid the rain, it was still a sloppy performance by both teams.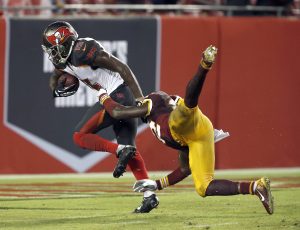 The Bucs were unable to put points on the board the entire first half of Wednesday's game. The Redskins ran right through the Bucs to score first. At the end of the half, Tampa Bay was trailing 13-0. Roberto Aguayo gave the Bucs points with a 50-yard field goal early in the third quarter. According to Tampa Bay's head coach Dirk Koetter, the highlights were few and far between. Tampa continued to put up a touchdown and one more field goal, but it wasn't enough to walk away with the "W." The final score was 20-13 in favor of the Redskins. Although the weather conditions were a major issue, Koetter says it's going to be difficult to determine who will be the fourth and fifth receivers on the team.
Preseason wasn't all bad for the Bucs though. Before their loss to Washington, Tampa Bay beat both the Cleveland Browns and the Jacksonville Jaguars. Quarterback Jameis Winston threw for 259 yards and two touchdowns against the Browns, pushing the Bucs to their 30-13 victory. And in Jacksonville, quarterbacks Mike Glennon and Winston threw for one touchdown each and their team had only two turnovers compared to the Jags' four, giving Tampa Bay the 27-21 win.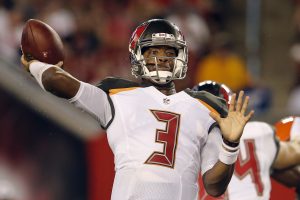 As the team reflects on this year's preseason, a couple players stood out the most. Although his play wasn't consistent, Jameis Winston still racked up 384 passing yards, the fifth most among NFL quarterbacks in three games. Wide receiver Mike Evans was Tampa Bay's leading receiver throughout preseason, catching eight passes for 143 yards and two touchdowns. And defensive end Jacquies Smith would not go unnoticed either as he proved himself to be an asset to the Bucs' defense.
Tampa Bay will open up their regular season on Sunday, September 11th on the road against the Atlanta Falcons.