It's no secret that the Gator defense will be one of the keys to this Saturday's rivalry matchup against the Georgia Bulldogs.
Rumph Speaks on Dawgs
Florida defensive line coach Chris Rumph spoke to the media Wednesday in preparation for this weekend's rivalry match up between the Gators (5-1) and the Georgia Bulldogs (4-3). Among other topics, C0ach Rumph addressed his banged up defensive starters. It's gotten so bad that Rumph joked he may need a doctor for all of their ailments.
Defensive lineman Bryan Cox's health is one of the question marks heading into Florida-Georgia weekend. Although Cox has seen practice time this week, Rumph says he's still awaiting confirmation from team doctors to see if Cox will play. Cox and linebacker Alex Anzalone are currently leading the team with four quarterback hurries this season.
According to Rumph, Georgia's offense is going to be difficult to contain. Coach Rumph believes this is the case regardless of how well Florida's second-ranked defense has been playing.
Adding fuel to the fire, Rumph says this is one of college football's greatest rivalry games. Undoubtedly, it's a special event to be apart of.
Injury Report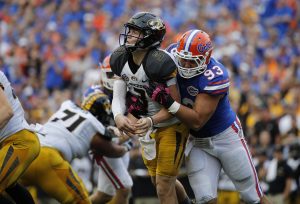 In regards to injuries, Florida's kept the same narrative throughout this entire season: next man up. A blessing and a curse, younger players have had the chance to step up and excel, including defensive lineman Jabari Zuniga. Zuniga is a true freshman who leads the team with five sacks.
Redshirt junior Jordan Sherit is also a team leader with three sacks. Rumph says it's yet to be determined if he'll play against the Bulldogs.
This season, Georgia's offense has averaged 403 yards per game while Florida's defense has only allowed 252.5 yards per game. In order to have success, Rumph says Florida's defensive linemen must focus on their individual assignments and avoid chasing statistics.
Rumph also explained that Georgia tailback Nick Chubb is a dynamic runner who will undoubtedly pick up yards. The key for Florida's defense is staying in the moment instead of overreacting to the big plays that are bound to happen.
This weekend's SEC East rivalry game is scheduled for 3:30 p.m. from EverBank Field in Jacksonville.