"Revenge is a dish best served cold."
That may be All Star guard Russell Westbrook's mind set going into the first match up of the season between the Oklahoma Thunder (4-0) and the Golden State Warriors (3-1) on Thursday night. A lot has changed since the last time these two teams met in the NBA playoffs. After the Thunders epic 3-1 lead collapse to the Warriors in the Western Conference Finals, the attention immediately turned to Kevin Durant and his future. After weeks of speculation Durant eventually opted to leave Oklahoma City to play with Stephen Curry and the Warriors. The decision wasn't without its critics as many stated that Durant took the easy route signing with the record breaking 73 win Warriors. Regardless Durant has received nothing but support from his new teammates.  Naturally Durant's departure rubbed some his former OKC teammates the wrong way.
Russell Westbrook recently had little to say about Durant.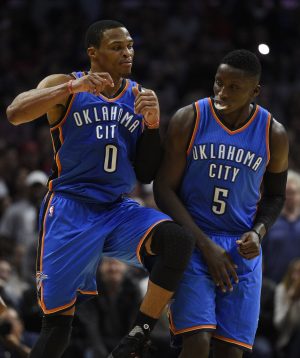 Currently Westbrook and the Thunder have a 4-0 record; best record in the Western Conference. Westbrook has been on a tear so far this season as he's the first NBA player to have at least 100 points, 30 rebounds and 30 assists through the first three games of the season. Westbrook has posted monstrous averages of 37.8 points, 10.5 rebounds and 10 assists through four games. Newcomer Victor Oladipo is still adjusting to his new teammates but has posted up averages of 15 points, four rebounds and two assists per game thus far. Oladipo and Westbrook will look to continue there early success tonight against Durant and the Warriors.
OKC coach Billy Donovan says Westbrook has been a leader on the team.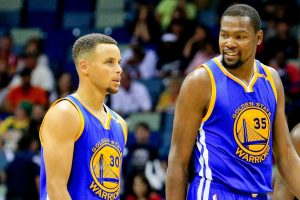 After a surprising 129-100 loss to the San Antonio Spurs to open the season the Golden State Warriors have righted the ship to three straight victories including a 127-104 victory over Portland this past Tuesday. At least statistically Kevin Durant has shown no issues in adjusting to his new surroundings posting up 28.5 points, nine rebounds and four assists per game through four games. Reigning MVP Stephen Curry has averaged 26.3 points a game early; it could be difficult for Curry to top his magical 2015-2016 season but if anyone can do it, he might be the guy.
https://twitter.com/warriors/status/794256341309255681