The No. 4 Texas A&M Aggies (7-1, 4-1) travel to Starkville to take on the Mississippi State Bulldogs (3-5, 1-3) on Saturday.
Offensive Dominance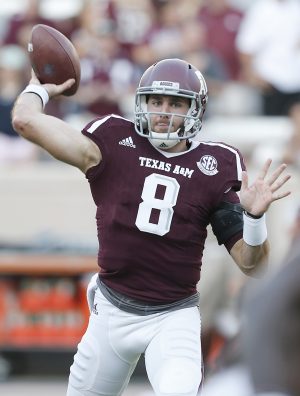 The Aggies are a well-balanced offense between both the passing and rushing game.  The numbers on each half are almost even, with 249.1 yards per game on the ground and 249.6 yards per game through the air.  Leading this offensive attack on both sides is Texas A&M quarterback Trevor Knight.  Knight, a transfer from Oklahoma, has over 233 passing yards a game, even with only 53.3% completion.  However, Knight isn't just a threat in the passing game.  He is also second on the team in rushing with 529 yards and leads the team with nine rushing touchdowns.
Mississippi State has its own pass-run weapon in quarterback Nick Fitzgerald.   Fitzgerald has rushed for 657 yards, a team high.  The Bulldogs produced offensively in their win against Samford last time out, with 669 yards and 29 first downs.  Their biggest struggle with be stopping Knight and the Aggies charge.
Defensive Struggles
The Bulldogs have struggled to stop their opponents this season.  Just last week, Mississippi State gave up 627 yards, 27 first downs, and 41 points against an FCS opponent in Samford.  Also in that game, the Bulldogs missed 20 tackles for over 300 yards after the catch.  With the combined attack from the Aggies, the Bulldogs will have to put up their best effort in order to compete.  Mississippi State head coach Dan Mullen says his team has practiced well this week and know the level of competition that's at hand in this matchup.
Playoff Implications
The Aggies' No. 4 ranking in the College Football Playoff Poll was somewhat surprising, as they were ranked No. 7 in both the AP Top 25 and Coaches' Polls.  The Aggies will need another SEC win to stay in position to compete for a spot in the playoff.  However, this is not the team's focus.  Aggies head coach Kevin Sumlin says his team was practicing during the announcement and will continue to focus on each week.
The Bulldogs take on the Aggies Saturday at noon on the SEC Network.