The Florida Gators are celebrating Senior Day tomorrow, signaling the team's final home game of the season. What's sure to be a celebration for several on the roster, might be an awkward moment for the visiting head coach. South Carolina's Will Muschamp returns to Gainesville for the first time since being fired in 2014. The irony of Senior Day against Muschamp is that he recruited all of the seniors. Now, he hopes to beat them.
Of course, Muschamp, who went 28-21 in Florida (10-13 in his final two seasons) in four years with the Gators, isn't going to admit to showing any emotion. He stressed the game is important for his team's bowl eligibility and that the preparation going into this game has been the same as any other.
Can They Overcome The Injuries?
Not only did No.22 Florida (6-2, 4-2 SEC) lose an upset game against Arkansas last week, they lost some critical players. What seemed like a sure win a week ago is now in question considering the team's missing key players. QB Luke Del Rio is ruled out for the game, paving the way for Austin Appleby to get his third start of the season. While some won't lament the loss of Del Rio (two touchdowns, six interceptions in last three games), Appleby hasn't impressed in his limited minutes. He played average in the Tennessee loss, going 23-for-39 with 296 yards, three scores and a pick. But against Vanderbilt, he threw for only 144 yards with no scores. Gator head coach Jim McElwain picked the senior over freshmen Kyle Trask and Feleipe Franks because he liked Appleby's preparation in practice.
A team losing its starting quarterback usually ranks as the worst case for many teams, but for Florida, it's second on the list. Linebackers Alex Anzalone (broken arm) and Jarrad Davis (high ankle sprain) are both ruled out. Those two lead the team in tackles (109 combined), and are top three in tackles for loss and sacks. The Gators have built their 2016 reputation on defense, and without those two, things get a bit more difficult. Center Cameron Dillard, RB Mark Herndon and WR C.J Worton are also out.
Freshmen LBs David Reese and Kylan Johnson at Tuesday prax…expected to start in absence of Jarrad Davis and Alex Anzalone #Gators pic.twitter.com/QI96j4Haj6

— Grace Remington CBS4 (@Grace_Remi) November 8, 2016
Red Zone Woes
The Gators' average-at-best offense is going to be put to the test tomorrow, particularly when squaring off against South Carolina in the red zone. The Gamecocks allow just 69 percent of teams to score in the red zone, eighth-best in the country. The Gators, meanwhile, are 125th overall in red zone offense, scoring only 70 percent of the time. It's been no secret that Florida has been lacking in the scoring department. Their 228 passing yards per game are 70th in the country and their 150 yards per game on the ground are 95th.
More Pressure On DBs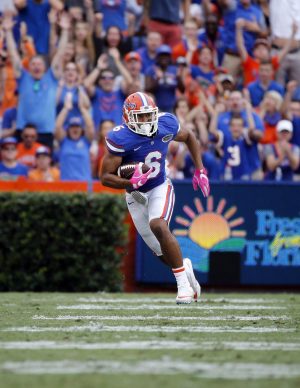 Simply put, Quincy Wilson and Jalen Tabor need to have big games to come away with a win. The two future-first round picks have combined for nine interceptions this season. Teams refuse to throw deep against the Gators. The Gamecocks rely more on their passing game, especially now that freshman Jake Bentley is the starter. He's yet to throw a pick in his last three starts. He's also coming off his best game yet, a 22-for-28 performance with 254 yards and two touchdowns in a win against Missouri.
SEC East On The Line
A win is always important any team, but a win against South Carolina is almost necessary for the Gators. Florida is half a game above the Kentucky Wildcats in the East. If Florida wins, they can guarantee it stays like that for another week. If they lose and the Wildcats beat Tennessee, all of a sudden Kentucky is in line to compete in the SEC Championship.
House Divided?
For one Gator fan tomorrow, it'll hurt to cheer against the Gamecocks. Steve Spurrier, a current ambassador at UF, was the head coach of South Carolina for 11 seasons from 2005-15. He left the school with the most wins in program history at 86. But as Gainesville natives will note, he's arguably more famous for his time with Florida. Spurrier coached the Gators from 1990-2001 and elevated the program to unforeseen heights. He won 122 games (easily the most in school history), its first conference championship in 1992 and its first national title in 1996. McElwain says it's going to be a hard one for the 'Head Ball Coach' to watch considering how much he has vested in the game.
Kickoff is at noon on CBS.