Kentucky is saving dessert for last when they host a winless Austin Peay in a cupcake game today that should almost guarantee the Wildcats entry into bowl season.
Futility of the Peay
There are 125 teams in the FCS. The Governors are one of two without a win. They sit at 0-10 in the Ohio Valley Conference. The team surrenders an astounding 46 points per game. Their 'best' defense was against Jackonsville State when they surrendered 34 points. Naturally, they've allowed opposing teams to score 63 times, the worst in the entire FCS. Austin Peay's shortcomings are nothing new. Since 2013, they are a breathtaking 1-44. In fact, they haven't had a winning season since 2007 when they were 7-4. The last time they faced an SEC team was last season. They took on Vanderbilt and lost 47-7.
Even Kentucky head coach Mark Stoops couldn't muster the usual trite remarks about not taking any opponent lightly. The best he had to say was they fit their schedule.  The Wildcats are favored by 42 points. For the Governors, the game can serve as a nice memory. It's not often they'll get to play in front of a crowded SEC stadium.
Going Bowling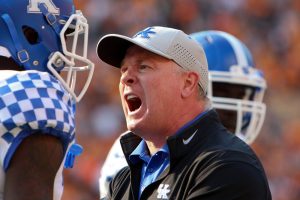 Stoops finds himself at a familiar win total. In 2013 and 2014, he finished with five wins on the season, just barely missing out on a bowl game. Once again he sits on that precipice except this time, there's a 99 percent chance he'll get that sixth win and qualify for a bowl game. That percentage isn't a glib prediction, it's from the ESPN Football Power Index. The Wildcats aren't feeling any pressure about reaching win number six. UK last played in a bowl game in 2011 (BBVA Compass Bowl) where they fell 27-10 to Pittsburgh.
Stoops' team is coming off two losses against Georgia and Tennessee, but he's still very much upbeat about his team. His squad's goal centers on peaking at the right time, and an easy game against an FCS opponent can certainly propel them.
Up Next
Kentucky just needs to ensure they don't lose any key players to injury. They're expected to give their starters the first half of action and then turn it over to backups. After all, following Austin Peay is the vaunted No. 5 Louisville.
Kickoff against the Governors is at 4:30 p.m. on the SEC Network.