While the Gators still haven't had a real home game yet at the O'Connell Center, tonight will be their first true road game as they take on the UNF Ospreys at 7 p.m. from UNF Arena in front of 5,800 screaming North Florida fans.
Oh my! The opening of the new Exactech Arena @OConnellCTR is coming soon! TICKETS: https://t.co/t1gn4gJegm pic.twitter.com/PylXD8IO0n

— Gators M-Basketball (@GatorsMBK) November 30, 2016
History: UF has taken on UNF five times in school history, with the most recent matchup coming in the first round of last year's NIT at UNF Arena. The Gators took care of the Ospreys handedly, knocking North Florida out of the National Invitational Tournament with a 97-68 victory. All five starters for UF scored in double-digits that game, with John Egbunu leading the way, scoring 13 points and grabbing 10 rebounds. North Florida has never beaten Florida, with the Gators leading the all-time series, 5-0.
Familiar Foes: Dallas Moore and Chris Davenport play the first and third most minutes respectively for the Ospreys, and are no stranger to the Gators and their players. In last season's NIT matchup, Dallas Moore finished with an outstanding 23 points, 7 rebounds and 5 assists. Davenport also had a solid night in that one, ending with 14 points and 5 rebounds. The pair and Kasey Hill go way back, with Davenport, Moore and Hill all playing for the same AAU team in high school, the Florida Rams, in the Adidas circuit. Moore might be the best player of the three, as he leads the Ospreys with 19.1 points per game this season on 46.2% shooting from the field and 44.2% shooting from three-point land. Davenport is averaging 7.1 points and 5.0 rebounds per game on an average of 25.6 minutes played. Moore is also only 9 assists away from becoming UNF's all-time leader in the category.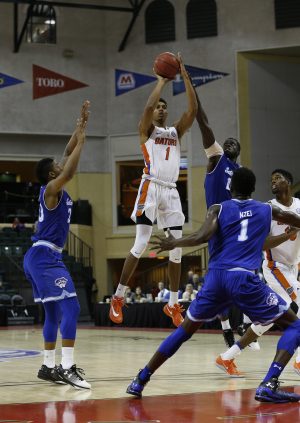 Momentum: The Gators are coming off of arguably their best win all season in a 65-56 victory over the Miami Hurricanes in the 3rd-place game of the Advocare Invitational in Orlando. That win, along with a close 77-72 loss against #11 Gonzaga, a game the Gators led a lot of the way, propelled them to a new ranking of #24 in the latest AP Poll. This is the first time Florida is ranked in the Mike White era. On the other hand, North Florida is looking to snap a two-game losing streak, with losses to both Wright State (75-67) and CSU Bakersfield (77-54) in the past week. While North Florida was a contender in the Atlantic Sun last season, if this season has indicated anything, FGCU looks to be the clear favorite to win that conference. The Ospreys' only wins this season came against Edward Waters College, an NAIA school, Florida National College, a USCAA school, and North Dakota of the Big Sky conference, their only Division I win this year. If the above stats didn't set the scene, UNF has also gone 0-17 all-time against SEC schools.
Free-Throw Advantage: In a shocking turn of events, the Gators are actually the favorite at the free-throw line in tonight's game. Florida is shooting a solid 76.4% from the line this season, while North Florida is knocking down a poor 64.8% of their free-throws. The Ospreys have shot below 60% from FT in three different games this season.
Rebounding Advantage: In another surprise, albeit against lesser opponents, the Ospreys are grabbing 40.9 rebounds per game, good enough for t-40th in the nation. The Gators, whose main advantage last season came on rebounding and defense, are averaging 38.1 rebounds per game, ranking t-130th in the country. UNF has outrebounded their opponents six of their first eight games, and have achieved 50+ rebounds in two different games.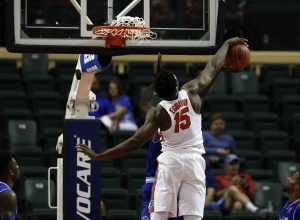 Defense Wins Championships: Florida's best asset this season has been their defense, a category where they rank t-53rd in the nation, only allowing 64.1 points per game. The Gators are forcing an astonishing 16.4 turnovers per game, ranking t-20th in turnover margin and t-47th in turnovers forced. John Egbunu has been a force to be reckoned with in the paint this season, leading the team with 2.4 blocks per game. He's also adding 9.4 point and 7.9 rebounds per game. The Gators rank 7th in the country with 7.1 blocks per game.
Upcoming Milestones: Kasey Hill is four assists short of reaching 400 total for his Gator career. If he can reach 400, he'll be the 10th Florida player to reach the milestone. He is currently only one assist shy of Taurean Green (397), who sits 10th on the all-time list. Canyon Barry is also only 22 points away from reaching 1,000 career points. He scored 893 of them while at College of Charleston. Finally, Chris Chiozza can become only the second player since the 1996-1997 season to reach five career games of 8+ assists and one or fewer turnovers. He currently sits at 4 and needs only one more to tie himself with Eddie Shannon.
How to Watch and Listen: UF-UNF tips off at 7 p.m. from UNF Arena and can be seen on ESPN3 or the WatchESPN app, with Brent Martineau and Lee Moon Jr. on the call. You can listen to the game as always on the Gator IMG Sports Network, including the new ESPN Gainesville 98.1 FM, with Mick Hubert and Mark Wise.
WATCH: @GatorsMBK head coach @MikeWhiteUF discusses how he is preparing the team for UNF in Jacksonville Thursday. https://t.co/gV8w9OyS7B pic.twitter.com/alBBYXR9qK

— GatorVision (@GatorVisionTV) November 30, 2016