For the first time since the 2000 Sweet 16, the Florida Gators will take on the Duke Blue Devils in New York City at Madison Square Garden in the Jimmy V Classic. Both teams are coming off of 30+ point wins, as the Gators took down North Florida in their last contest by a score of 91-60, while the Blue Devils dominated Maine to a 94-55 victory.
https://twitter.com/GatorsMBK/status/805971521588039680
Diaper Dandies: Of Duke's 16-man roster, eight players on the squad are freshmen. Two of the Blue Devils' top five scorers are freshmen, including Frank Jackson and Jayson Tatum. Jayson Tatum was injured to start the season, making his debut against Maine. He played 20 minutes, finishing with 10 points and 8 rebounds. Tatum's numbers may seem just slightly above-average, but his Duke career is just getting started. Tatum was the 3rd-ranked player in the 2016 ESPN 100, choosing Durham as his home over Kentucky and UNC.
The Blue Devils' second stud freshman is Frank Jackson, who was the 10th-ranked player in the 2016 ESPN100. Jackson is averaging 15.4 points per game on the season, good for third on the team, and is shooting 49.4% on the season. Jackson did sit out the Blue Devils' last game vs. Maine due to an injury, but is expected to return for Tuesday night's game vs. Florida. Duke's recruiting class for the 2016 season was ranked 2nd, finishing behind the Kentucky Wildcats for the number one spot. Florida will also be tasked with defending Marques Bolden, who played his first game of the season vs. Maine on Saturday night, finishing with 7 points and 5 rebounds. The center was the 16th-ranked recruit in the 2016 ESPN100. The only top recruit Florida won't face on Tuesday night is Harry Giles, who is still yet to make his season debut after coming off of knee surgery. The Gators should consider themselves lucky as the 6'10", 230-pound freshman was the #1 ranked player of the 2016 recruiting class, and is considered one of the top choices in the 2017 NBA Draft.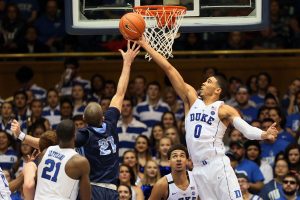 It's not Just Freshman: If Florida only had to deal with Duke's freshman it'd still be a hard game, but not one they'd find themselves a 7-point underdog in. The Gators will also have to deal with junior Grayson Allen, sophomore Luke Kennard and senior Amile Jefferson, who make up three of the Blue Devils' top four scorers.
Let's start with Luke Kennard, who is leading the team with 19.4 points per game, which ranks 4th in the ACC. Kennard has already had four 20+ point games in nine games played, and has had at least six rebounds in his last five games. Next is Grayson Allen, the longtime face of Duke basketball, and a Durham favorite. It seems like Allen has been a Blue Devil for about a decade, but he's really only been there for three seasons. Allen is averaging 17.1 points per game and leading the team with 3.6 assists per contest. Allen didn't play vs. Maine, but dropped 24 points on 5-11 three-point shooting in a 78-69 win over Michigan State. Finally, we have Amile Jefferson, who is coming off of a career-high 20 points against Maine. The senior swingman has shot 66.7% in Duke's last four games and ranks 18th nationally in double-doubles with four on the season already.
"We've got our hands full with defending Grayson Allen and Luke Kennard and (Marcus) Bolden and (Jayson) Tatum are back, my goodness," said Coach White. "They play so hard, they're so unselfish. They're so many challenges ahead with facing a program like Duke that if you're thinking about the wrong things you give yourselves zero chance at success.
Making Coach K Proud: Duke ranks #1 in the country in offensive efficiency, per the ever efficient KenPom.com. The Blue Devils rank 21st in the country in points per game, with 85.7, and rank 10th in the country in scoring margin at +22.4. Even with a fast-paced, high tempo offense, scoring isn't Duke's only ability. The Blue Devils rank 18th in the country in defensive efficiency and have held eight of their first nine opponents to less than 69 points.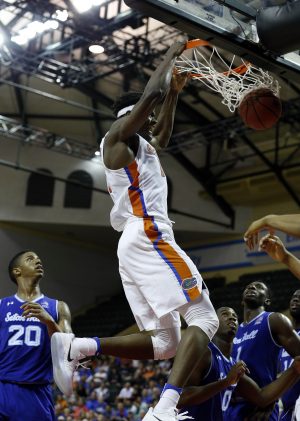 Never Stop Running: While this sub-section may seem like Will Muschamp's offensive gameplan from 2011-2014 (sorry, not sorry Florida fans), Mike White's mentality of being the best conditioned team in basketball has certainly paid off. The Gators rank 8th in the country in defensive efficiency and 47th in the country in points per game allowed at 63.6. A lot of Florida's success this season has come off of controlling turnovers. UF ranks 8th in blocked shots per game with 6.6 and are 12th in the country in turnover margin at +5.6. Duke, like Florida, plays a fast game, but the Gators can get an early lead by controlling the pace themselves, and not letting it get out of hand before it's too late.
Differences from Last Season: Mike White in a media availability earlier this season said that his Gators didn't make the NCAA Tournament last year singlehandedly because of free-throw shooting. Florida is shooting 11% better from the charity stripe this season, sinking 75.7% of their free throws as opposed to a terrible 64.7% last season. A major chunk of that has come from KeVaughn Allen and Canyon Barry, the team's two leading scorers, who are shooting 94.1% and 81.8% from the line respectively. Both players are shooting around 41% from the field this season and combine for 24.5 points per game.
"Duke's one of the most historic basketball programs, playing in one of the most historic arenas, so it's kind of just a whirlwind, but you know, I think our mindset has been really good this week, treating it like any other game, going about our business, preparation, doing your jobs and focusing on the things that we can control to try and get better every game, every practice, everyday," said Canyon Barry.
Best Offense of the Season vs. UNF: Florida had arguably their best offensive game in a 91-60 win over UNF in Jacksonville. In that game, the Gators shot 58.5% from the floor and 47.4% from beyond the arc. Chris Chiozza had a breakout performance, finishing with 16 points on 5-8 shooting, while adding 9 dimes and 4 rebounds.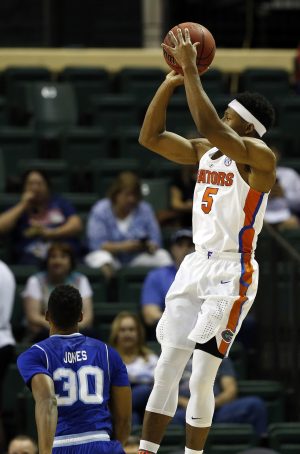 "They're a much different defensive team than North Florida, of course," said White. "We're not going to be able to move the ball quite as much, we're not going to be quite as comfortable with their size and speed and quickness. They're going to be in the passing lanes. They're going to be very aggressive, very physical. Their guards are all very good defensively. They'll be really prepared. I expect to see some zone, but not 40 minutes of it like we did the other night."
Family Fun: Florida head coach Mike White is the son of Duke Vice President and Director of Athletics Kevin White. It'll be a tense, but fun environment in the many White family households around the nation.
"Dad and Coach have a great relationship, of course," said White. "My parents are very happy about the opportunity and the honor to work at Duke. It's not just the basketball program. They really enjoy Coach Cutcliff and all the other head coaches. That's a great thing they got going up there." 
How to Watch and Listen: Tonight's game tips off at 9 p.m. from Madison Square Garden and can be seen on ESPN and the WatchESPN app, with Dave O'Brien, Dick Vitale and Maria Taylor on the call. You can listen to the game as always on the Gator IMG Sports Network with Mick Hubert and Mark Wise on the call.