NFC Wild Card Football kicks off this weekend in Seattle with the Detroit Lions and the Seahawks.  Saturday's match up could be a tale of history, home field advantage, and quarterback play.
History
The Lions are overwhelmingly inexperienced in the postseason.  Detroit has only made two playoff appearances since 1999 and has not won a postseason game since 1991.  In contrast, the Seahawks' six playoff wins since 2013 are the most in the NFL.  Seattle has been to the Superbowl three times in the last 11 seasons, including back to back appearances in the Big Game in 2013 and 2014.
The Lions recent history doesn't help them either.  Detroit lost their last three games heading into the postseason, finishing 9-7, putting them behind the Green Bay Packers in the NFC North. However, the Lions are used to being the underdog and finding a way to win.  Detroit has trailed in the fourth quarter in 15 of 16 games this season and won eight.
Home Field
Seattle's greatest advantage over the Lions could be their home field.  The Seahawks have won their last eight home playoff games and have never experienced postseason defeat in Levi's Stadium under Pete Carroll and Russell Wilson. Seattle boasts a 48-13 home record, including playoff games,  since Carroll arrived in 2010.
However, the Lions treat the postseason as a new start.  Detroit safety Glover Quinn says his team refuses to be intimidated by Seattle's streak.
Quarterback Battle
Both quarterbacks are both highly competitive and have suffered their setbacks this season.  Lion's quarterback Matthew Stafford has thrown for 4,327 yards, 24 touchdowns, and 10 interceptions.  Stafford dislocated his right middle finger on his throwing hand.  Although Stafford says the injury did not affect his abilities, the Lions went 1-3 and Stafford threw five interceptions in the last four games of the season.  Stafford wears a glove and was not listed on the Week 14 injury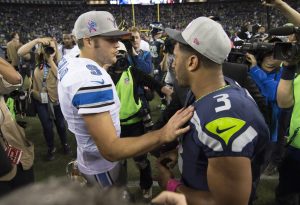 report.  Seattle quarterback Russell Wilson says he respects Stafford's ability to lead his team despite injury.  Stafford and the Lions also have an edge with Seattle safety Earl Thomas out.
Wilson suffered three injuries in the first six weeks of the season.  Wilson's sprained MCL from Week 3 still causes issues, but Wilson insists his best football is ahead of him.  Wilson has multiple weapons to throw to this season, including wide receiver Doug Baldwin and tight end Jimmy Graham.  However, the Seahawks have struggled in the run game this season, which would help alleviate the pressure on Wilson.  Seattle struggled in 2016, failing to rush for at least 100 yards 10 times this season.
Catch the NFC Wild Card battle Saturday at 8:15.