The Houston Texans will take on the Oakland Raiders in the AFC Wild Card round of playoffs.
QB Controversy
The major storyline about the game revolves around who the starting quarterback will be for both teams.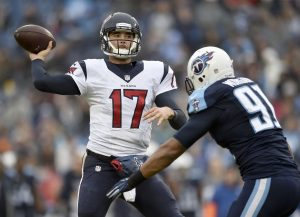 The Texans had  benched their season long starter Brock Osweiler prior to week 17's game against the Tennessee Titans in favor of back up signal caller Tom Savage after he led them to victory against the Bengals. Savage went down with a shoulder injury against the Titans forcing Osweiler back in.
Osweiler has struggled to meet expectations all season after signing an enormous 4 year 72 million dollar contract in the offseason. Osweiler will get the start on Sunday and a playoff victory could cement his status as Houston's permanent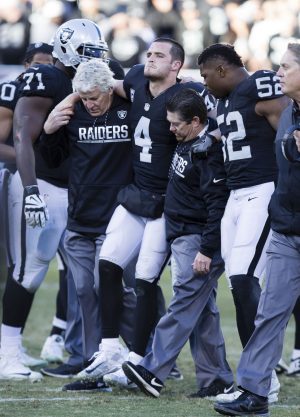 The Raiders, on the other hand, have had great success with their quarterback Derek Carr throughout the season. Carr's season, however, was cut short when he broke his fibula. The Raiders were left with Matt McClain and rookie Conner Cook, who had big shoes to fill. McGloin started week 17, but went down with a shoulder injury forcing Cook under center.
It was announced that Cook will be the starter on Saturday, making him the first rookie QB to start in a playoff game since Todd Marinovich in 1991.
Playoff Implications
The game is monumental for both teams as both are looking to get playoff victories. The Texans are looking for their first victory since 2012 and their first under head coach Bill O'Brien. The Raiders are trying to get their first playoff victory since 2002 when they squared off against the Tampa Bay Buccaneers in Super Bowl XXXVII.
Regardless of the outcome the winner will face the Kansas City Chiefs in the divisional round of the playoffs.
Kickoff for the Wild Card game is set for Saturday at 4:35 p.m.