The Orlando Magic will look to end their three game losing streak against the Milwaukee Bucks on Friday. After a tough loss against the Pelicans to end their six game road trip, the Magic will be happy to be back home.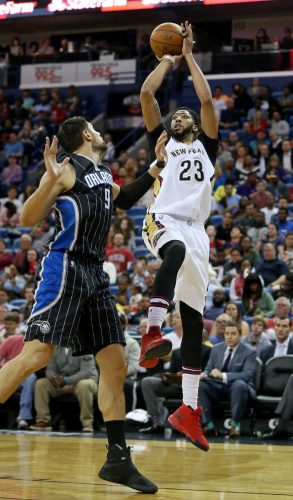 Magic Struggling on Both Ends
A big part of the Magic's Wednesday night loss to the Pelicans was their inefficiency on both offense and defense. The Pelicans took advantage of the Magic's defense as four of their five starters reached double digits in scoring.
Big man Anthony Davis led the team totaling 21 points and 14 rebounds. The team also had two players, Langston Galloway and Tyreke Evans, score double digits off the bench at 18 points a piece.
Magic head coach Frank Vogel said that the team's poor offense was to blame for the loss as well as turning the ball over. The Magic turned the ball over 18 times, while the Pelicans finished the game with only eight.
Magic return home from their six-game road trip to face the Bucks on Friday. pic.twitter.com/nRrqtdySPY

— Orlando Magic (@OrlandoMagic) January 19, 2017
Matching Up Against Milwaukee
The main concern for the Magic should be Giannis Antetokounmpo, who is currently leading his team in five categories. Yes, that's right, five. Some of those include his 24 points, nine rebounds, and six assist per game. Antetokounmpo will be another challenge for the Magic, somewhat similar to how Anthony Davis was.
The good news for the Magic is that the Bucks are currently on a three game losing streak and lost their matchup against the Rockets last night. Regardless of the opponent, Coach Vogel said that his team must continue to move forward and stay positive.
Last night's ESPN​ highlights featuring @Giannis_An34!!#OwnTheFuture pic.twitter.com/tm4oxXAjyb

— Milwaukee Bucks (@Bucks) January 19, 2017
Injury Update
As of Wednesday, Magic guard Jodie Meeks has been ruled day-to-day. Meeks suffered a dislocated right thumb in Wednesday's game against the Pelicans. In addition, Magic guard Evan Fournier was ruled out and did not play on Wednesday due to a foot injury. There is no word as to whether he will play tomorrow.
Tipoff is at 7:30 p.m.