It all comes down to the AFC Championship Game for the New England Patriots and the Pittsburgh Steelers. This game could be known as a legendary quarterback match up between Steeler quarterback Ben Roethlisberger and New England's Tom Brady. Heading into Sunday's match up the Steelers are listed as the underdogs. Since Brady took over as the starting quarterback in 2001, the Patriots are 9-2 head to head over the Steelers and have beaten them in the 2001 and 2004 AFC Championship Games.  The Patriots also have the home field advantage but the Steelers are not losing hope yet as they are looking for their first Super Bowl appearance since 2010.  The question is how will they pull off a major upset on the road this weekend in order to move on to Super Bowl LI?
No doubt in my mind that we have talent, skill, heart & capability to win this game but #PITvsNE comes down to coaching & play calling

— SteelersNation (@SteelersKillerB) January 19, 2017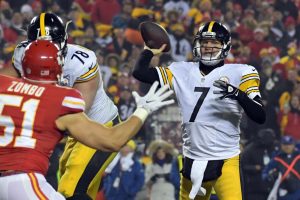 Quarterback Ben Roethlisberger has not been consistent this season especially in road games. In the playoffs, he has thrown two touchdowns and three interceptions while only being sacked twice. This year he has thrown a total of 16 interceptions.
Pittsburgh's offensive line has done a nice job protecting Roethlisberger.  He appreciates the work the offensive line has done for him and for the entire offense.
"I think we ended up number two in the league in least sacks, and that just speaks for those guys and their determination and how good they want to be and how great they really are," he said.  Pittsburgh also has running back Le'Veon Bell who is averaging 173.9 yards a game over his last nine games with 11 touchdowns and wide receiver Antonio Brown who has been the go to receiver all year long.  New England coach Bill Belichick knows he will have to try and shut down these excellent offensive threats to have the best chance to win the game.
Another issue for Pittsburgh in this game is the flu bug; tight end Ladarius Green missed practice due to the flu and over the last two days, 15 players have been dealing with some type of illness. Head coach Mike Tomlin isn't using it as an excuse.
"We're not making excuses; there won't be. We'll be there, we'll be ready to play. This is just part of the normal things that happen over the course of a season," said Tomlin.
Even with all this pressure for Sunday's match up, Roethlisberger is just excited his team made it to the AFC Championship. 
Patriots advantage 
The New England Patriots are the top seed in the AFC with an offense led by Brady.  No matter who he's throwing to, Brady simply gets the job done. However, in a loss last week, Houston did put a lot of pressure on Brady, forcing him to throw two interceptions and to complete less than 50 percent of his passes.  The Steeler defense hopes to have the same type of success.
Steelers, you're next #PITvsNE pic.twitter.com/0gc4qlYPwu

— GOAT (@TomFcknBrady) January 16, 2017
Another person to look out for is running back Dion Lewis. Against the Texans, Lewis scored three touchdowns in three different ways. The Steelers will have to focus plenty of attention to Lewis every time he has the ball.
The New England defense is ranked number one in the league, number one in points allowed and it rarely gives up big plays. The Patriots have allowed the third fewest yards on the ground this season, while allowing just 3.9 yards per carry. Brady is thankful for a strong defense that compliments the New England offensive attack.
AFC Championship Game
The Pittsburgh Steelers take on the New England Patroits Sunday at 6:40pm at Gillete Stadium, Foxborough, Massachusetts; you can hear the game live on ESPN 98.1 FM/850 AM WRUF.