The Orlando Magic suffered a 100 to 92 loss at home last night against the Chicago Bulls. Leading scorer and 14 year veteran guard, Dwyane Wade had a whopping 21 points, seven steals and seven assists to help lead the Bulls to a win on the road.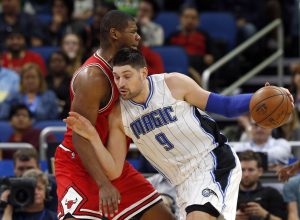 For the Magic, Nikola Vucevic led the team in scoring with 20 points, 12 of those in the second half. With Evan Fournier, Jodie Meeks, and D.J. Augustin being out of the lineup the Magic needed a big game from Elfrid Payton and were forced to make rotational changes. Payton arguably had his worst game of the season, giving away eight turnovers to the Magic's loss.
After tip off, the Magic started out strong with an 8-2 lead, which grew to 22-20. They kept the game close going into the fourth quarter until Dwyane Wade took off, giving Chicago their biggest lead yet, 88-79.
Trying to recover, Orlando had few chances to cut into the lead and failed to achieve decent shot selection and avoid continued turnovers. In the last 3 minutes, Vucevic attempted to lessen the gap, bringing the game from a 12-point difference back within 8. To end the game, Payton recovered a loose ball and fouled with 40 seconds left on the clock. Missing both free throws the Magic's chance at coming out with a win against the Bulls was over.
The two teams were meeting for the first time since Nov. 7 when the Bulls handed the Magic their worst loss of the season at 32 points (112-80).  The Bulls will be back in Orlando on March 8, while the Magic travel to Chicago on April 10 to play the second to last game of the regular season.
What's Next for the Magic
https://twitter.com/OrlandoMagic/status/824265748285714432
The team will travel to Boston to take on the Celtics on Friday, Jan. 27 with tip off set for 7:30 PM. The team will be without shooting guard Jodie Meeks who recently underwent surgery after dislocating his thumb last Wednesday. Meeks missed the first 18 games of the season to recover from a fractured bone in his foot and returned to play 24 games.