Gainesville High School (25-3) will face Ocala-Vanguard (22-6) in the 7A regional semifinals Tuesday night.  This will be the fourth meeting between the two teams this season, with Vanguard winning two of the first three.
Fourth Meeting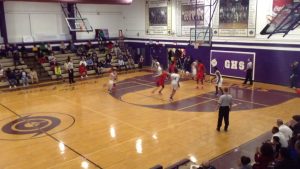 Vanguard seems to have the slight scoring advantage over GHS, averaging just over 62 ppg compared to GHS's 60.  However, GHS (26th) is ranked far higher in the state than Vanguard (86th).
The first meeting between these two teams this season ended in a Vanguard win in overtime.  The Hurricanes took the next game, but Vanguard rounded out the regular season matchups with another win.
GHS head coach Kelly Beckham says he looks forward to the matchup.
"I think it's going to be a fun game, you know?  It's one of those things where if you're a player or a coach, this is the type of game you really want to be in because it lets you compete at a high level," Beckham told Steve Russell on "Sportscene" Monday afternoon.
Coming Up
Gainesville and Vanguard will tipoff Tuesday night at 7 p.m.  The winner of that game will go on to the 7A regional finals.