Where Both Teams Stand
Florida Gator lacrosse is looking to keep the momentum going and not run out of steam as they face the Syracuse Orange tomorrow. The #3 Gators have won five games in a row, four of which have been played in a span of nine days. The #6 Orange on the other hand are looking to bounce back after they suffered their first loss on the season away at No.1 Maryland. Syracuse holds a 7-1 record, while the Gators stand at a 5-1 record.
Amanda O'Leary
While most Gator students used last week as a week of rest, the Gator lacrosse women where hard at work. Florida faced Jacksonville, Towson, Loyola, and Stony Brook throughout the week. During an interview with Gator lacrosse head coach Amanda O'Leary, she addressed how the girls need to push through any exhaustion they have when they face Syracuse. Playing Syracuse has always been a tough game for the Gators, and most likely will be tomorrow as well.
Game Facts
In the last two meetings between Florida and Syracuse (in 2015 and 2016), the game has gone into overtime. Including the last eight games, four have gone into overtime.
The two teams have played a total of nine games in program history and Syracuse leads the series 5-3.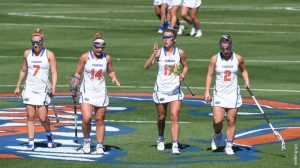 Key Players
Riley Donahue for Syracuse has been the team's leading scorer on the season with 24 points. However, Donahue wasn't able to find the net during the loss to Maryland. The Orange need her to get hot during tomorrow's match.
The one who needs to keep it rolling for Syracuse is Natalie Wallon. Wallon has set career highs in every category this season. She has 14 caused turnovers, 21 ground balls, eight draw controls and has scored 10 goals.
For Florida, Mollie Stevens set a career high in the Gators win over Stony Brook with 7 points. Stevens is ranked seventh in the NCAA with 6.33 draws controls per game this season and 38 overall.
Sammi Burgess has been playing great and is currently on a 30-game streak of scoring at least one point in a game. It is the fourth longest scoring streak in Gator history.
Game Time
Opening draw for the game is set for 1 p.m. tomorrow at Donald R. Dizney Stadium. Daniel Gillman and Connor Buckridge will be calling the game. You can watch them live on YouTube here or you can listen to them on ESPN Gainesville 98.1 FM/850 AM.