Gator fans finally got a look of what is shaping up to be the Florida football team of 2017.
Although the team played themselves in the spring game (*que DJ Khaled voice*) there are some takeaways from the performance on both sides of the ball.
1. Future in Franks?
Based on playing time, performance and confirmation from Coach McElwain, Feleipe Franks seems to be the leader for the quarterback slot, a much anticipated question for Gator fans.
Franks was in the starting role on the orange side of the ball and was 8 of 14 for 119 yards and one touchdown. Franks showed off his cannon arm that makes him such a strong candidate for the position with a 46-yard pass that connected with Josh Hammond.
McElwain said there were key traits that Franks has like being a "sneaky athlete" that has set him apart. 
McElwain on why #Gators Feleipe Franks pulled away in the QB competition:
– consistent
– escapability
– "sneaky athlete"

— Savanna E. Collins (@savannaecollins) April 8, 2017
Keep in mind, Franks was up against the second string defense but he did seem more comfortable in the pocket and able to react well to pressure.
.@18franks to @J_Hammond10 for a 46 yard completion…

LET'S GOOO! #OBDebut pic.twitter.com/KTUaHP4uMM

— Gators Football (@GatorsFB) April 7, 2017
Kyle Trask, the main competition at this time for the starting QB spot other than Franks, saw playing time for the blue squad and ended with a stat line of 6 of 15 for 66 yards with an interception.   But, this was with second and third-teamers on his side of the ball but when he was installed with the starters he showed off well. He marched the team 61 yards to a touchdown against the UF backups.
Trask said to earn that starting spot it's going to take him keeping his head down grinding but he thinks what sets him apart is bringing an even keel personality to the position.
2. Developing the Offensive Line
It's no secret that Florida has struggled offensively in recent years and part of the reason has been inconsistent play on the offensive line.  The unit has a new coach in Brad Davis and a lot of returning players, led by Martez Ivey.  Fred Johnson plans on taking a larger role this season on the line and said as a whole they plan on being more aggressive. Most of all, he said they won't be taking a back burner to the defense this year. 
3. Names You'll Hear A Lot This Season
Jordan Scarlett, Jordan Scarlett, Jordan Scarlett. The Gators heavily relied on him to carry the ball last season and it will be no different this year. He totaled 39 yards in the scrimmage including a one-yard touchdown in the opening drive.
Jordan Scarlett @Famousscarlett punches into the end zone during the #OBdebut pic.twitter.com/WN2fNd0FY1

— Ashlyn Sullivan (@ashlynrsullivan) April 8, 2017
But the Gators have another solid runner in returner Lamical Perine, who played in all 13 games last season as a freshman and will continue to get touches.
You probably haven't heard much of Jeremiah Moon. He started in Florida's first two games of the last season before suffering a season-ending injury and made quite the comeback tonight in the debut and he hopes to be a big factor at the linebacker position.
4. Keeping the Reputation of Lockdown D
The Gators will miss forces like tackles Caleb Brantley and Joey Ivie plus defensive end Bryan Cox Jr. Khairi Clark will be one of the guys stepping up on the defensive line and he knows he must continue to improve into spring and beyond.  He said he learned from the guys that left that you have to always come and out play your hardest if you want to get your name out there.
As for maintaining a status of "DBU," the Gators return a solid  secondary with veterans Marcell Harris, Duke Dawson, Nick Washington and Chauncey Gardner.  Dawson tipped a pass that linebacker Vosean Joseph intercepted.
5. Don't Sleep On Kedarius Toney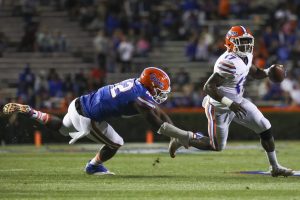 Most of the talk surrounding the quarterback position has been about Franks and Trask but there is a chance freshman Kedarius Toney could fit in the mix with a package of plays.  The coaches love his athleticism and he got to play in the third quarter but didn't get it going until the fourth. He had 15-yard and 34-yard rushes and completed three of his five passes, including a touchdown to Tucker Norman.
McElwain said this is a player he is excited about and that he needs to be getting experience.
Gator football won't return to the main stage for another five months but that doesn't mean the team won't be working. Florida isn't starting its season lightly, opening the season against Michigan.
With new commits coming in and a summer of training camp to work through, nothing is set in stone yet but the scrimmage at least gave Gator fans something to think about during a long off season.