GAINESVILLE, Fla. — Following the end of spring camp, Florida Football head coach Jim McElwain released the injury report for all of the question marks on the roster.
Almost all of the numerous injuries announced throughout the spring are now on track to be cleared for the start of fall practice. McElwain released that only three of the 22 who were at some point limited are behind in recovery.  Those three student-athletes include DE Jordan Sherit, WR Rick Wells, and TE Harry Gornto.
Since they are not currently on the expected track, their health to return to the field will be evaluated again closer to fall camp.
#Gators officially announce surgery for Kyle Trask, as @NickdelaTorreGC reported this morning. 4-week recovery, should be fine by fall camp

— Matt Baker (@MBakerTBTimes) April 12, 2017
The most major of the injury updates is  a minor surgery for quarterback Kyle Trask. Trask underwent surgery for a torn meniscus in his right knee on Wednesday but is expected to make a full recovery in four weeks.
McElwain said the procedure is "nothing major, a cleanup."
Trask is in competition for the quarterback spot with Feleipe Franks and played on his injured knee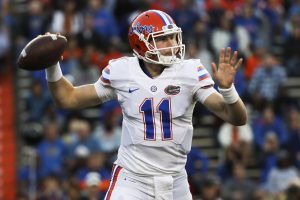 throughout the Orange and Blue game. Although McElwain won't name a starter, he said Franks edged past Trask in the race in the second half of the spring.
Linebacker Camrin Knight also had knee surgery on Wednesday for his right knee and will have his left knee operated on in May. He will be ready for fall camp as well.
All injuries suffered during the Orange and Blue game – defensive back Joseph Putu, wide receiver Tyrie Cleveland  and cornerback Duke Dawson – are all expected to be recovered soon.
Complete Injury List
Tyrie Cleveland
Duke Dawson
Luke Del Rio
Harry Gornto
Kavaris Harkless
James Houston
Kalif Jackson
Glenn Jarriel
Camrin Knight
Quincy Lenton
Dre Masser
C.J. McWilliams
Joseph Putu
David Reese
Antonio Riles
Tanner Rowell
Jordan Sherit
Moral Stephens
Freddie Swain
Jeawon Taylor
Kyle Trask
Rick Wells