With the number one overall pick in the 2017 NFL Draft, all eyes are on who the Cleveland Browns will select.
The Standout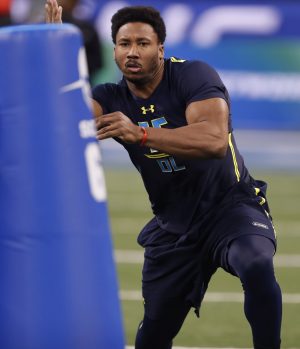 Almost every draft analyst agrees Myles Garrett is in a league of his own.  The defensive end out of Texas A&M had 32.5 sacks and 48.5 tackles for loss over the past three seasons.  Many talent evaluators separate him from the rest as a proficient athlete and an expert at his position.  He is proficient at rushing the passer and according to his draft profile on NFL.com, "his first three steps can send an offense into disarray." The few cons associated with drafting him first concern whether or not he is mature enough, and his consistency.  ESPN Draft analyst Kevin Weidl says that despite the concerns, he cannot imagine the Browns passing on Garrett's talent.
A Franchise Guy
After finishing 1-15 last season, the Browns are in need of playmakers at various positions.  Perhaps the most obvious need is a standout quarterback.  After previously struggling with the drama of Johnny Manziel, Cleveland still struggled with a quarterback crisis in 2016.  By October, the Browns had played six quarterbacks in seven games. Some people would assume the Browns would want to fill their QB slot and transform their franchise.  For that reason, there is speculation that Cleveland is interested in taking North Carolina quarterback Mitchell Trubisky.  Trubisky had to wait until his third season to start for the Tar Heels, which shows he has patience- a good attribute for a rookie in the NFL.
"Positive, young man. Very competitive. Brings a lunch box, blue-collar mentality to the position." — Sashi Brown on Mitchell Trubisky

— Cleveland Browns (@Browns) April 19, 2017
The concern is whether or not Trubisky's talents qualify him as the number one overall pick.  Weidl says the 2017 quarterback class will all need to improve under a strong franchise.  Browns head coach Hue Jackson says finding the right player for his team is important, but it is not the only factor.
The 2017 NFL Draft begins Thursday April 27 on ESPN.